So Donald Trump gave a speech at Andrews Air Force Base in Maryland last Friday and it was suuuuper awkward. He brought Melania along to introduce him. After welcoming her husband to the stage, the married couple shook hands and… Wait, what?
Related: 12-second clip of Melania Trump swatting at Donald says it all
That's right, folks. No warm embrace. No peck on the cheek. It was firm, mechanical handshake before Trump gave her a nudge toward the exit and Melania robotically walked off stage: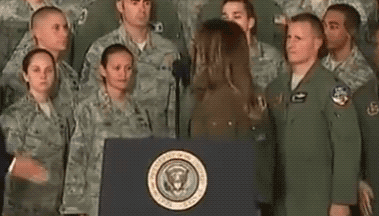 Let's take a closer look, shall we?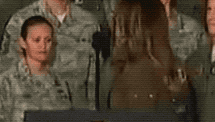 Trump then proceeded to launch into his speech completely unfazed: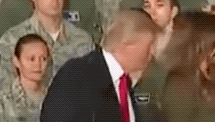 Twitter quickly took notice. Check out what people have been saying…
Like my father always taught me: Find a woman you love, look her in the eye, and give her a firm Business Handshake https://t.co/1vkViJPimr

— luke oneil ? (@lukeoneil47) September 16, 2017
Did he give a slight push out the way? pic.twitter.com/Dh6iT8DAAy

— Diya Khothule (@BKLYN_Diya) September 16, 2017
My wife and I shake hands goodnight every night.

— Keith Cleer (@keithcleer) September 16, 2017
Trump, awkward handshake:
"Great job, lady. What's your name again?"
:pushes her off stage:pic.twitter.com/n8UnHVjDKX#SaturdayMorning

— Holly O'Reilly (@AynRandPaulRyan) September 16, 2017
Ah yes, a handshake, so intimate, thank you very much husband sir, my misery is palpable, solid deal sir

— MelaniaTrumpFLOTUS (@TrumpFlotus) September 16, 2017
Related: Melania Trump's latest tweet on alcohol and drug addiction seriously backfires