Last night was the final evening of the 2020 Republican National Convention. Among the evening's speakers were Senate Majority Leader Mitch McConnell, House Minority Leader Kevin McCarthy, Donald Trump's personal attorney Rudy Giuliani, televangelist Franklin Graham, and the current White House occupant himself.
But nobody's really talking about any of them. Instead, everyone's talking about the awkward exchange of smiles between First Lady Melania Trump and former handbag designer Ivanka Trump right after Ivanka introduced her dad before his speech formally accepting the Republican presidential nomination.
Hmmm. Where have we seen that expression before?
Oh yeah.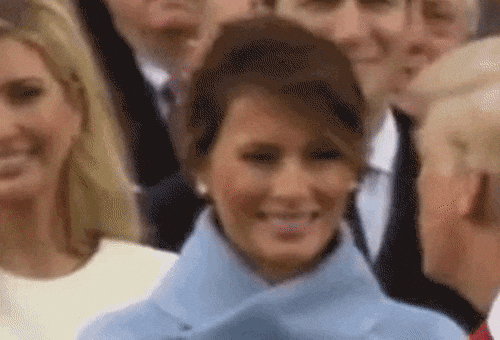 Here's how Twitter responded to the icy exchange…
I see that Melania and Ivanka are getting along juuuuust fine. pic.twitter.com/ktnmRBBG7Q

— TrumpsTaxes (@TrumpsTaxes) August 28, 2020
The disdain she has for Ivanka is all of us. #BeBest

— Dana Goldberg (@DGComedy) August 28, 2020
Makes you wonder what Ivanka whispered to Melania as she passed by. pic.twitter.com/v43wkZM0yH

— Jon Cooper (@joncoopertweets) August 28, 2020
When you're the third wife and you still have to compete with a number one daughter

— Alice (@Alice18325068) August 28, 2020
Exclusive footage of Ivanka and Melania before the event
✌ pic.twitter.com/zv1Y21HzY0

— The Smokin Grasshopper (@Grasshopper2049) August 28, 2020
Hahaha! This outdoes the inauguration stank

— . (@Jeremy10036) August 28, 2020
Melania loathing Ivanka is the only time she's ever even tried to make most Americans empathize with her. pic.twitter.com/9Q50IRkA0g

— Mrs. Betty Bowers (@BettyBowers) August 28, 2020
At least the American people got a useful gif out of this loathsome misappropriation of taxpayer funded resources

— I am Devin Nunes' Spartacus (@AmyDoghouse) August 28, 2020
Call it a hunch, but I don't think Melania likes Ivanka very much. On that, we can agree. #BeBestpic.twitter.com/bqIN6ytR3m

— BrooklynDad_Defiant! (@mmpadellan) August 28, 2020
Related: Don Jr. swears he wasn't coked out of his mind at RNC, blames bad lighting for sweaty face