For years, LGBTQ tourists have visited Disney theme parks en masse to celebrate "Gay Days" at the Magic Kingdom. But these well-attended annual events had always been unofficial and organized by independent outsiders who didn't work for "The House of Mouse."
Seeing the growing LGBTQ appeal — and the chance to score some serious pink dollars — Disney has finally organized an official LGBTQ Pride event at one of its parks. It's called "Magical Pride" and it'll take place at the start of Pride Month on June 1, 2019 in Disneyland Paris.
Related: Gay Days set to turn Disneyland into the gayest place on earth for a red-hot weekend
Magical Pride will reportedly involve an official "Magical March of Diversity Parade" alongside DJs, special live music performances and other events and photo opportunities.
The park's decision to finally host an official LGBTQ Pride event comes 28 years after the first Disney Gay Days in 1991, during which 3,000 gay and lesbian visitors from central Florida attended the Disney World theme park. The first unofficial Magical Pride event reportedly occurred in Disneyland Paris in 2014.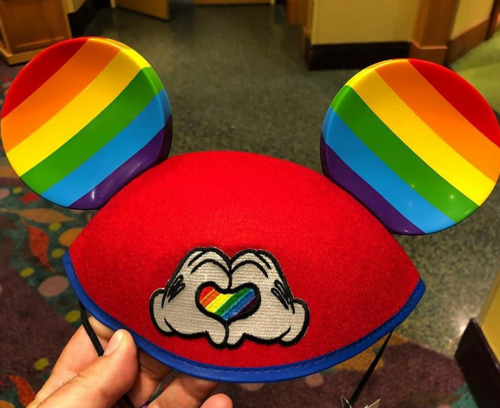 Slowly but surely, Disney has warmed up to its LGBTQ fans. It hasn't featured an openly gay character in any of its major film releases, but it will in its upcoming live-action feature Jungle Cruise in which straight English comedian Jack Whitehall will play a "hugely effete, very camp and very funny" brother.
A little over a year ago, Andi Mack became the first live-action Disney Channel show to have an openly LGBTQ recurring character. Before then, Disney featured a lesbian same-sex couple in 2014 in its live-action sitcom series Good Luck Charlie.
Disney also showed a possible same-sex couple in the 2013 film Frozen, a much-overhyped gay moment in its 2017 live-action Beauty and the Beast film and a same-sex kiss in the background of the Disney Channel's animated action series Star vs. the Forces of Evil.
Last year, Disney sold a pair of rainbow-colored Mickey Mouse ears as a partial show of support for its LGBTQ visitors. For 12 years it has received a perfect score on the Human Rights Campaign's Corporate Equality Index of businesses with pro-LGBTQ employee policies.
Despite its glossy and cheery appearance, it's worth mentioning that some of Disney's toys and apparel items are still produced by sweatshop labor involving 12-hour workdays, child laborers as young as 14, crowded living spaces and laborers earning $1.32 an hour, barely enough to cover living expenses.