Sometimes a peach is not just a peach.
In honor of Call Me By Your Name vying for Oscars this weekend (as it were), featuring hunk Armie Hammer and twink Timothee Chalamet getting it on Italian style (see the movie, you'll know when it happens), we've decided to take a little retrospective jaunt to some of the hottest gay sex scenes ever in the movies.
All these scenes feature some very hot actors in some very hot action.
You'll want to uncross your legs for this one. Anyhoo, have a look at our picks for the sexiest gay sex scenes in the movies, and ask yourself: when is the peach more than just a peach?
1. Peachy Keen, Call Me By Your Name
Actually, the film teems with sexy and sensual moments, including Armie Hammer going commando, Timothee Chalamet sniffing his underwear (who wouldn't?) and of course, the notorious fruity bit, scenes rendered all the sexier thanks to the love and longing the two men share in a movie critics are calling masterful.
2. Rooftop Love, Velvet Goldmine
So Ewan McGregor and Christian Bale get naked and bang on a rooftop as glitter pours down over them. That alone justifies the price of streaming the movie, though the film's intriguing look at glam rock, and incredible performances by Bale, McGregor, Toni Collette and Jonathan Rhys-Meyers make this Todd Haynes rock musical a cult classic. Oh, and McGregor gets it on with Rhys-Meyers too. So, there's that.
3. Cow poke, Brokeback Mountain
How could we not include the beautiful story of Jack and Enis, an occasion which affords the audience a chance to see Jake Gyllenhaal and Heath Ledger doing it doggie?
4. Campfire Love, My Own Private Idaho
Gus Van Sant's hauntingly beautiful film about the life of two male hustlers features fantastic performances from Keanu Reeves and River Phoenix. Graphic sex alone doesn't make their love scene around a campfire hot–its the genuine tenderness and affection. Though they treat sex as currency, their love for one another helps them see sexuality in a different light: an intimate one.
5. Drip Dry, My Beautiful Launderette
This tale of interracial love in the 1980s UK features an early, powerful performance from Daniel Day-Lewis. Their scenes of sensual and tender sex in a laundry mat play as sexy as they do funny.
6. We're Wet, Bad Education
So sometimes what a movie doesn't show has as profound effect as what ends up on the screen. Case in point: queer director Pedro Almodovar's near-masterpiece Bad Education, about a psychological affair between a gay filmmaker and his boyhood love. Or is it? Bad Education operates as a sexy mystery, with lots of betrayal, plot twists and homoeroticism. Though the movie features a number of sex scenes, we enjoy this gif of Gael Garcia Bernal's wet tighty-whities.
Related: Armie Hammer addresses Call Me By Your Name's age-gap romance
7. Holy Rolling, Priest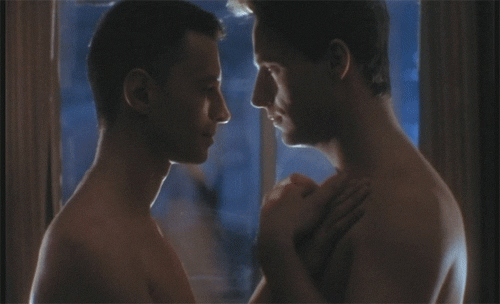 This British drama (in no way connected to the bizarre 2011 sci-fi movie of the same name) features one of the most frank and graphic gay sex scenes ever committed to film. Hottie Linus Roache gets hot and heavy with Robert Carlyle (yes, Rumpelstiltskin from Once Upon a Time) as a priest who finally accepts the way God made him.
8. Hold Me, Thrill Me, Kiss Me, Kill Me, Stranger By The Lake
This French thriller caused a sensation on release in 2013 both for its suspense and its scenes of hot gay lovin'. The vacationing Franck falls for the handsome killer Michel, and the two begin a frightening, if super sexy, romance complete with some super graphic, full frontal, on the beach sex.
9. Ghosted, Undertow
This peculiar Peruvian movie about a love affair between an artist and a fisherman's ghost (really) caused a sensation at film festivals back in 2010, not only for an unusual story, but for some wild and graphic scenes of gay sex. Our favorite: the encounter in the cave.
10. The Real Thing, Weekend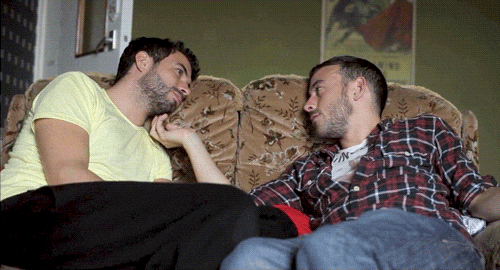 Brit blokes Russell and Glen have a one night stand that leads to something very different—actual affection for one another. Perhaps that's why their final encounter together has such sexy power, and real emotional resonance.
11. Killing Us Softly, Kill Your Darlings
We love Daniel Radcliffe. And we love Allen Ginsberg. What's better than seeing Radcliffe as Ginsberg? Easy…Radcliffe as Ginsberg bottoming. The actor even won a "Bottom of the Year" award back in 2013 for his steamy and shocking sex scenes in Kill Your Darlings. Watch it and try not to touch your wand.
12. Mama's Boys, Y Tu Mama Tambien
Alfonso Cuaron, director of the sexy Great Expectations remake struck again, this time with one Hell of a twist. After getting to know the Julio and Tenoch, the two horny straight boys at the center of Y Tu Mama for two hours, a three way reveals the true obsession of the besties: each other. The moment of realization is just as hot as it sounds.
13. Swan Diving, Black Swan
To begin with, the plot of Black Swan–the story of an aspiring ballerina–gets really strange, especially after young Nina (Natalie Portman) meets her doppleganger, Lily (played by Mila Kunis). When the two engage in an intense and graphic lesbian sex scene, the movie arouses a lot more than passions. No doubt fans of ladies who prefer ladies will come away with something on their minds…among other places.
14. Surreal Life, Looking for Langston
Short, surreal, strange and sexy as hell, Looking for Langston meditates on the work of gay, African-American writer Langston Hughes. While the words of Hughes play over the soundtrack, actors playing Langston and his lover engage in some very explicit and sensual love scenes. Nobody quite knew what to make of the short film when it debuted in 1989. Today, it holds a place as a seminal film about the black, gay experience, and dang sexy one at that.
15. Swap Meet, Mulholland Dr.
On the subject of the surreal, few movies inspire conversation and confoundment like David Lynch's Mulholland Dr. Normally we'd give a word about the plot here…but in this case, we're not even sure we can explain it. Suffice it to say, two women on the trail of a murder mystery get themselves into some very tight situations…including a weird lesbian sex scene. We don't quite know what it means…but we can't deny getting very turned on.
Call Me By Your Name has its Oscar fate decided March 4.