Gayle Myrick used to work as a magistrate in Union County, North Carolina. Now, she's sitting pretty on a huge pile of cash.
As a magistrate, one of Myrick's responsibilities was to perform marriages. Well, after marriage equality became the law of the land a few years ago, she told her supervisors she wouldn't marry same-sex couples because it went against her Christian faith.
Sound familiar?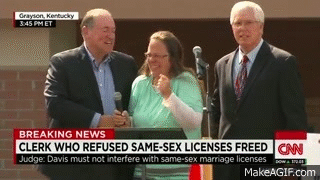 Myrick's supervisors reminded her that she had sworn an oath to uphold the Constitution and that the government couldn't make an exemption to the law just for her. So she resigned… then promptly filed a discrimination complaint that eventually made its way all the way up to the federal Equal Employment Opportunity Commission.
Myrick argued that her supervisors didn't make enough effort to accommodate her religious beliefs. Now, the state of North Carolina has agreed to give her a whopping $325,000.
The huge settlement comes after an administrative law judge determined Myrick had been "involuntarily terminated" then ordered the state give her back pay and attorney fees.
Rather than appeal the decision, the state has decided to pay up.
In an op-ed titled You can't make state officials like me perform same-sex marriages and published by the Washington Post, a gleeful Myrick writes:
Our civil rights laws point us to a society where we can live, work and break bread together despite our differences. My case shows that we can find reasonable solutions that protect the freedom and dignity of everyone.
And when we can't–well–we just sue people to enrich ourselves.
Related: Kim Davis is touring Romania to encourage the government to ban gay rights