A recent Quinnipiac University poll found that 53 percent of respondents don't approve of Jared Kushner or Ivanka Trump working in the White House.
Jared was hired to be a senior adviser to the his father-in-law, despite having zero experience working in government. And his inexperience has been showing. So far, the Trump administration, under Jared's "advisement", has accomplished absolutely nothing in its first 100 days.
But government-ing isn't the only thing the 36-year-old businessman struggles with. Apparently, he's a terrible landlord as well.
Related: White House staffers think Jared Kushner is a loser and make fun of him behind his back. Sad!
A Village Voice article published earlier this month alleges that tenants in not one but two of Kushner's Lower Manhattan buildings have been dealing with an ongoing and worsening rat infestation that Kushner's property management company refuses to properly address.
"One of the neighbors opened the door to take out the garbage and a rat jumped on her leg," a tenant at 156 Sullivan Street told the Voice.
The tenant asked to remain anonymous out of fear the landlord (a.k.a. Kushner) "might do something."
"I can see there's rats running around all over the place," he continued, speaking about the enclosed alleyway next to the building where the garbage cans are stored. "A lot of times, you can see the bags move because the rats are in there eating."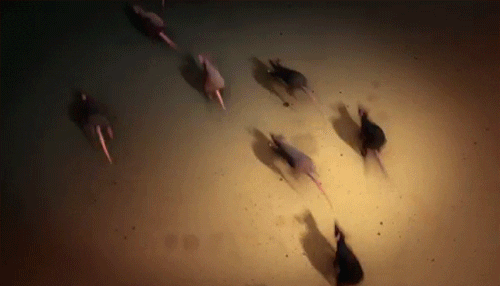 Kushner owns more than 50 building in New York City. He acquired the Sullivan Street building in 2012. According to the tenant, there were problems with rodents before, but "the rats have gotten a lot worse since they bought the building."
The other property with alleged issues is located at 199-203 East 4th Street, where tenants say rats the size of cats can be spotted scurrying near the trash cans and around the grounds, ducking into chewed out holes.
"I lifted the lid to a garbage can and a rat jumped out," a tenant in that building says.
Despite alerting the landlord, little has been done to address the issue. At one point, the tenant says, management replaced the plastic trash cans because the rats had completely chewed through them, but nothing was done about the actual rats themselves. Within days, they returned and chewed through the new plastic bins.
"They failed to address the overflow problem and the sanitation problem," the tenant says.
Eventually, the new plastic bins were replaced with metal ones, but by then there were so many rats living around the premises that it didn't do much good.
The tenant recently took a video of the pests and posted it online:
According to the Voice, this isn't the first time one of Kushner's buildings has dealt with severe rodent problems. Last year, a tenant at 118 East 4th Street told the paper that there was a pile of trash in the backyard that was littered with "decomposing rat carcasses."
Units in the buildings reportedly range from $4,000 to $7,000 a month. A spokesperson for the property management company says its "actively addressing" the pest-control issues; however, it adds, rodents are "a well-known aspect of New York City living."
Related: Jared Kushner's baby brother Josh is totally cute and totally liberal