Jonathan Van Ness is a single man again. The Queer Eye star told Instagram followers on December 30 that he and boyfriend Wilco Froneman had split.
And Van Ness had some tea to spill on the rugby player, apparently. According to Us Weekly, his original breakup announcement read, "Cheaters never prosper."
Related: Jonathan Van Ness under fire for suggesting liberals need to be more tolerant of racists
Before long, the reality star changed the Instagram caption, opting to quote Ariana Grande lyrics:
"She taught me love, she taught me patience, how she handles pain, that sh*ts amazing. I've loved and I've lost but that's not what I see because look what I found ain't no need for searching, rounding out my 2018 with a very gorg THANK U NEXT. #selflove."
Van Ness also asked followers not to attack Froneman, whom he met in July. "Please don't go in on Wilco," he wrote. "He doesn't need the anger & I don't want to see him suffer so just know I'm all good & sometimes people break up — Love you all so much."
Related: Queer Eye's Karamo Brown shows off fine assets, but don't enjoy them TOO much
In his Instagram Stories, the hairstylist seemed to express remorse over the original caption. "I should've sat with myself a bit longer before I posted my most recent post," he admitted. "Wilco is a good person & sometimes things don't work out. Please don't attack him on his page. Just let us move on, heal and enjoy your gorgeous New Years celebration! Your girl Jonathan is just fine. Biggest hug."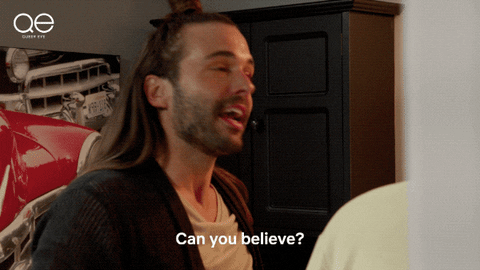 For his part, Froneman also addressed the breakup on Instagram. "Not only did Jonathan Van Ness give me the best moments of 2018, but undoubtedly the best moments of my life," he wrote on December 31. "I will always love him and cherish every moment we shared. I encourage everyone to continue to send him love, no one deserves anything less."
The following day, however, the South Africa native got a little shady toward his ex, starting an Instagram post by saying, "These are my words, not a lyric from a song."
In that post, Froneman denied any cheating accusations. "Things end for a reason and I am moving forward with my head held high knowing the truth in spite of the bullying and accusations that come as a result of a rash post, the damage of which can't be undone. I am hurt, but healing and want to state for the record that I was never unfaithful to Jonathan. Our breakup happened as a result of circumstances that I don't fully understand, nor can explain but I enter 2019 with my feet planted firmly on the ground with a positive attitude and intention to make this year the best ever… much love and gratitude to all that reached out with compassion and love."
2018 was a particularly unromantic year for the Queer Eye cast. Antoni Porowski, the show's resident sangria expert, parted ways with Joey Krietemeyer, his boyfriend of seven years, this summer. Porowski has since moved on with another reality star: Flipping Out's Trace Lehnhoff.