Another day, another eye-rolling, untrue, and downright vile statement from White House gaslighter press secretary Kayleigh McEnany.
During a tense press conference this morning, McEnany was asked about Trump telling the white supremacist group Proud Boys to "stand back and stand by" during Tuesday night's debate instead of simply denouncing them like a normal person.
"The president did denounce them," McEnancy said. "He was asked, 'will you tell them to stand down?' he said 'sure.'"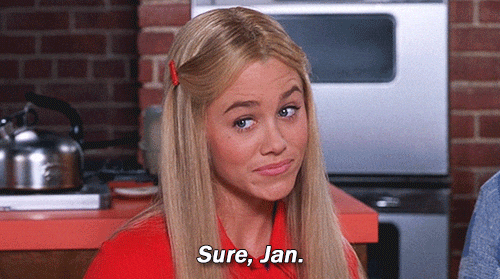 McEnany then tried arguing that "stand by" is actually a synonym for "stand down." However, a quick visit to Dictionary.com finds that this is simply not true.
To "stand by" means to remain in "a state of readiness to act, respond, or be used immediately when needed." While to "stand down" is to "resign or withdraw."
When it was mentioned that the Proud Boys were celebrating Trump's shout out to them on Tuesday night, McEnancy responded by pointing a finger at the media, saying that if they didn't mention "Proud Boys" in headlines all the time, maybe people wouldn't be talking about them so much.
Related: Last night's disastrous presidential debate as told in memes
Pretty much everybody–aside from racists, that is–was horrified by Trump inability to condemn white supremacy on Tuesday night.
Senate Majority Leader Mitch McConnell, Sen. Lindsey Graham, Sen. Mitt Romney, and Sen. Tim Scott, the only black GOP senator, all urged him to retract his statements.
Fox News reporter John Roberts and Fox & Friends co-host Brian Kilmeade also agreed that he should condemn white supremacy, with Kilmeade saying Trump "ruined the biggest layup in the history of debates" by refusing to do so.
Yesterday, Trump told reporters that he has no idea who the Proud Boys are, saying, "You'll have to give me a definition because I really don't know who they are."
Just like how he doesn't know Jeffrey Epstein, Paul Manafort, Vladimir Putin, Prince Andrew, Stormy Daniels, George Conway, George Papadopoulos, Marie Yovanovitch, Anthony Scaramucci, or Serge F. Kovaleski, the disabled reporter he mocked on the campaign trail in 2016.
Watch.