Well, this is embarrassing. Almost as embarrassing as Paul Ryan's Freudian slip about "destroying" the American health care system…
It's no secret how Donald feels about the New York Times:
Remember when the failing @nytimes apologized to its subscribers, right after the election, because their coverage was so wrong. Now worse!

— Donald J. Trump (@realDonaldTrump) March 29, 2017
So we're sure he won't be thrilled to learn about this.
In an article about the ridiculous number of days #45 has visited his Trump-branded properties since taking office, the New York Times stirred up some confusion around his relationship to Ivanka.
The article accidentally referred to the first daughter as Trump's "wife." We can't imagine where they possibly got that idea.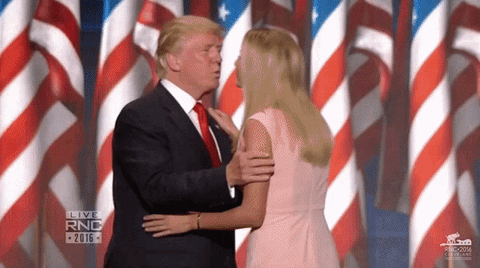 Shortly after publication, however, the 
Times 
posted a correction.
"Because of an editing error, an earlier version of this article misidentified Ivanka Trump as President Trump's wife," the Times wrote. "His wife is Melania. Ivanka is one of his daughters."
Got that, folks?
Just to make sure this isn't any lingering confusion, Donald is married to a 46-year-old Slovenian immigrant and former fashion model who lives 200 miles away from him in New York City. Her name is Melania.
Oh, and in case you're curious, Donald has spent a total of 23 of his 54 days in office away from the White House. He's spent 18 days at Mar-a-Lago, 10 at Trump International Golf Club in West Palm Beach, four at Trump National Golf Club in Sterling, Virginia, two at his hotel Trump International Washington, and one at Trump National Golf Club in Jupiter, Florida.
Related: Melania Trump's official White House glamour shot, er, portrait gets memed, hard