In case you haven't heard, Donald Trump kicked off the new year by taunting Kim Jong Un with a "mine is bigger than yours" schoolyard tweet regarding the country's nuclear weapons:
North Korean Leader Kim Jong Un just stated that the "Nuclear Button is on his desk at all times." Will someone from his depleted and food starved regime please inform him that I too have a Nuclear Button, but it is a much bigger & more powerful one than his, and my Button works!

— Donald J. Trump (@realDonaldTrump) January 3, 2018
2018 is looking up, folks!
It's already being labeled as "the nuclear war tweet heard all around the world." Who knows what sort of horrible and deadly implications it may or may not have in the future, but in the meantime, it has inspired a fair amount of small penis jokes at the president's expense since, let's be honest, that's what this feud has always been about at its rotten core.
Ladies and gentlemen, the tweets…
We're all going to die because Donald Trump is insecure about the size of his penis. https://t.co/jwRj8CshVQ

— Translate Trump (@TranslateRealDT) January 3, 2018
I cannot understate how small @realDonaldTrump's penis is.

— God (@TheTweetOfGod) January 3, 2018
Well, Donald Trump just threatened to launch a nuclear war with his penis. Consider my optimism for 2018 pretty much extinguished.

— Ross Richendrfer (@RossRichendrfer) January 3, 2018
With every tweet it becomes more and more apparent that you have a microscopic penis. Please shut your stupid fucking mouth and put away your phone.

— Blaine Gibson (@BGibbles) January 3, 2018
Reminder: "Donald Trump defends size of his penis"https://t.co/NJq4iZpkyU

— Chris Cillizza (@CillizzaCNN) January 3, 2018
Donald Trump's penis is not bigger than Kim Jong Un's, confirms Ivanka Trump

— The Rochdale Herald (@RochdaleHerald) January 3, 2018
As we conclude 2017, let us be grateful that Donald Trump has not tweeted pictures of his penis yet.

— Windsor Mann (@WindsorMann) December 31, 2017
Donald Trump's tiny penis will be the end of civilization.

— Oliver Griswold (@originalgriz) January 3, 2018
If @realDonaldTrump's dad had loved him, or if he had a bigger penis, we wouldn't be in this mess.

— David A Fernández (@lawdavisito94) January 3, 2018
Even Cher got in on the action…
TRUMP IS A NUT JOB
WHO IS PLAYING,"WHOSE
?IS BIGGER",WITH ANOTHER NUT JOB FROM N.KOREA??TRUMP MAY GET US INTO A WAR,WITH HIS 12 YR OLD BOY "NANNY,NANNY,NANNY"
TWTS??
THEY'RE PROBABLY BOTH THE SIZE OF
" TOM THUMB"

— Cher (@cher) January 3, 2018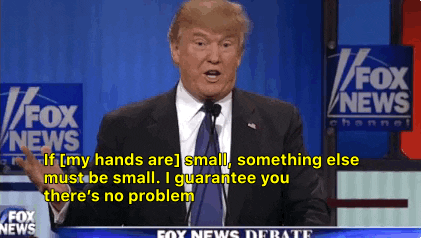 Related: We're not even a week into the new year and Melania Trump has already been memed