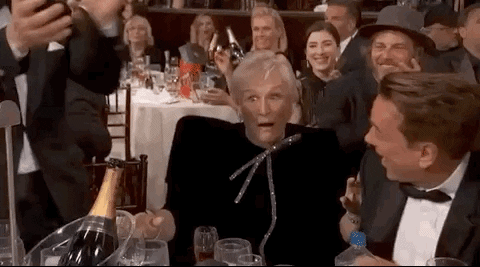 So Glenn Close beat Lady Gaga for Best Actress in a Motion Picture — Drama at the 2019 Golden Globes last night in what may be one of the biggest upsets in modern Globe history.
Close, who was seated all the way at the back of the auditorium, won for her role in The Wife. The award is her 15th Golden Globe nom and third win over the course of her 45-year career as an actor. And while she has been nominated six times, she has never won an Academy Award.
During last night's ceremony, Close gave a truly powerful acceptance speech, where she talked about how it took 14 years for The Wife to be produced, about how her own mother struggled with balancing marriage and motherhood and her personal life, and why seeking "personal fulfillment" outside of partners and children is vital.
The speech was met with teary-eyes and a standing ovation.
But Gaga fans were unmoved, to say the least.
Many were furious that Mother Monster, who picked up a trophy for Best Original Song earlier in the evening, didn't take home the top acting prize. Naturally, they took to social media to voice their outrage.
Here's what the Little Monsters are saying…
I just found out Lady Gaga didn't win best actress for her role in A Star Is Born, and I'm ANGRY. WHAT IN THE ACTUAL FUCK?! #robbed

— em ?? (@EmilyPark24) January 7, 2019
i'm in the worst fuckimg mood of my life fuck u glen close @ladygaga babe u deserve the world

— Julia Schimansky (@JuliaSchimansky) January 7, 2019
who even is glen close i'm sorry lady gaga totally deserved that

— hads (@bonkersgabbie) January 7, 2019
Idk how a star is born didn't win every award last night. Bradly cooper literally practiced for months and lady Gaga was incredible!

— NICOL CONCILIO (@nicolconcilio) January 7, 2019
You mean I stayed up past 10 pm only to watch Lady Gaga lose to Glen Close for a movie no one has seen. #GoldenGIobes pic.twitter.com/SX0h205xUb

— Jennifer Kassab (@kassab_jennifer) January 7, 2019
NO FUCK OFF WHO THE FUCK IS GLEN CLOSE GET OFF MY SCREEN

— r loves emily (@bluntgaga) January 7, 2019
GLEN CLOSE??? Not #LadyGaga?? I'm done with you #GoldenGlobes
You as drunk as Christian Bale and Bill Murray.#GoldenGlobeAwards #GaGaWasRobbed #WhoPaidForThisShit

— Rien Forme (@rien4me) January 7, 2019
I HAVENT EVEN SEEN A STAR IS BORN YET AND IM SURE GLEN CLOSE IS GREAT. BUT LADY GAGA GOT ROBBED.

— Bridget Ferrin (@BridgetFerrin) January 7, 2019
Oh, but it doesn't stop there…
Fuck Glen Close

— kenna (@kennam27) January 7, 2019
Even Glen Close can't believe Lady Gaga didn't win #goldenglobes2019 pic.twitter.com/DUUU7n3dlR

— truthfultomatoes (@truthfultomato1) January 7, 2019
It's a shame glen close won instead. Thought she was dead. @ladygaga should have won. https://t.co/DmaVF5b77L

— Major Stamina (@MajorStamina1) January 7, 2019
homophobia won last night at the golden globes, gaga and bradley were ROBBED

— mariah scarey (@n4stynick) January 7, 2019
Ummmmm wait what? #GoldenglobeAwards2019 did he just say Glen Close? Please let this be another #moonlight moment@ @ladygaga was robbed. pic.twitter.com/fVibYuDIjk

— Joshua Hess (@joshuajjuice) January 7, 2019
Glen close really? She is junk. She was so surprised bscause enem she knows lady gaga was better.

— Chris church (@Churchy53) January 7, 2019
Fuck Glen Close, she had to portray a wife ….a disgruntled wife. Yet every other woman in the category had to make a drastic change and actually act!!!! #goldenglobes

— ?Killer Queen? (@KillerQueen315) January 7, 2019
Glen fucking close? She was against Lady fucking Gaga! What is it to you if we felt that she should of win?! Like does our opinions really effect your life lol. Like dam. But yet you are telling me to grow up. You need to act like you are grown boo. I'm 23 years old I'm grown.

— † (@AyooNoel) January 7, 2019
Related: That time Glenn Close beat Lady Gaga for Best Actress has been immortalized in memes