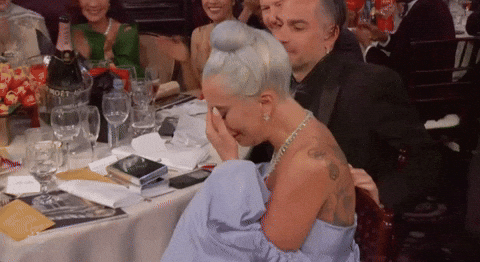 Sing it with us now: hoo, huh, uh, huhh-ow, huh, huhh-huhhh. Ever since we heard Lady Gaga belting out the "Shallow" bridge in the first trailer for A Star Is Born, we had a feeling we'd see her at the 91st Academy Awards.
But Mother Monster isn't just a nominee for Best Original Song: This morning's nomination announcement revealed she's also in contention for the Best Actress statuette. In fact, she's the second-ever person to get an acting nomination and an Original Song nod in the same month, following in the footsteps of only Mary J. Blige.
Related: That time Glenn Close beat Lady Gaga for Best Actress has been immortalized in memes
While we count down the minutes until the 2019 Oscars — which air on ABC at 8 p.m. ET. on Sunday, February 24 — check out how Twitter is celebrating Stefani Germanotta's big honor in the tweets and memes below.
Lady Gaga right now drinking all the haters tears after getting two #OscarNoms pic.twitter.com/qJ496bdAi0

— ????? (@hausofglen) January 22, 2019
Academy Award® nominated actress Lady Gaga #OscarNoms pic.twitter.com/tQq20hSmcF

— josh (@thejoshuagrant) January 22, 2019
Introducing 6 time Grammy award winner, National Board of Review winner, 2 time Golden Globes winner, Satellite Award winner, 2 time Critics Choice award winner, 3 time Academy Award nominee, 2 time BAFTA award nominee and 2 time SAG Awards nominee… LADY GAGA! pic.twitter.com/tGkIDn4dii

— Lady Gaga Media ?? (@GagaMediaDotNet) January 22, 2019
Related: People are really, really pissed Lady Gaga didn't win the Golden Globe for Best Actress
Lady Gaga is the only person ever nominated for Best Actress and Best Original Song at #Oscars in one year. Grammys are coming, Oscars are coming,Enigma shows are slaying and we are every day closer to #LG6 lead single.2019 will be biggest year ever in Gaga's career. #OscarNoms pic.twitter.com/nC9xPvCZtC

— Child Of Lady Gaga (@MonsterGagaKing) January 22, 2019
Lady Gaga is now on a whole other level above all the pop girls. While your fave's are enjoying a couple of streams, Gaga is making history at the Oscars. Legend won. pic.twitter.com/YNvPyKf9tF

— Franck ? (@_FranckAlvarado) January 22, 2019
Tilda Swinton to play all 99 people in a room who didn't believe in Lady Gaga pic.twitter.com/ihLUgd6Sqi

— drama lama (@pondgitsune) January 22, 2019
Dear Lady – I always knew you could do anything at the highest level of artistry. Congratulations on your Oscar nominations! Love, Tony@ladygaga pic.twitter.com/LrbyoDDBtw

— Tony Bennett (@itstonybennett) January 22, 2019