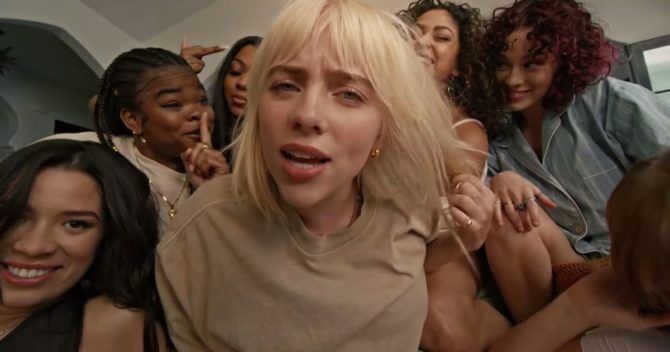 Billie Eilish has just released the new video for her song "Lost Cause," and we are so here for it.
The video finds Eilish partying and writhing with a group of other women in what could be interpreted as a lesbian fantasy slumber party. The group dance around in loose-fitting shirts and short shorts, spraying each other with silly string, taking shots and forming a human amoeba on a bed.
Oh, and they play some Twister.
Related: Billie Eilish's facial expressions were the only memorable moments from last night's Oscars
The video also features Eilish and her ladies donning more than a few signature lesbian fashions: ball caps, flannel button-down shirts, and the aforementioned oversized jackets. At one point, Billie and her gang also seem to compare posteriors in a twerking contest. We also noticed some longing looks at plunging necklines.
We're not exactly sure what Eilish is trying to say here…though the lyrics to the song about waiting on a lost cause of a lover raise all kinds of questions.
Regardless, it's definitely a girls' night.
Have a look: