We were initially skeptical about Feud — if only because the source material is still potent enough to quench even the strongest camp crave — but now, the slow and steady trickle of teasers, trailers, and publicity stills has started to work its magic on us.
Related: Why Gays Fell In Love With These Original Shock Queens
In less than a month, we'll get to see Ryan Murphy's new series starring Susan Sarandon and Jessica Lange as Bette Davis and Joan Crawford, who spend their days cutting each other to ribbons on the set of Whatever Happened To Baby Jane. 
As far as concepts go, it's nearly impossible to screw up — even if each episode just loops this for an hour: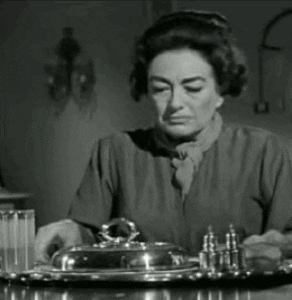 Now, the title sequence has been released; a classy bit of business featuring cut-outs of the women in various tableaux. Much like the GIF above, it's absolutely whetting our appetites.
Watch: