In addition to calling himself "the chosen one" and retweeting some nonsense about being "the second coming of Christ," Donald Trump told reporters this week that some of his "biggest supporters" are gay and that they love him so much they gave him an "award."
During a press event, Chris Johnson from the Washington Blade asked Trump point blank, "Mr. President, your administration has been taking steps to make it easier to discriminate against LGBT people in the workforce. Are you OK with those actions?"
Since taking office, Trump has rolled back workplace protections of LGBTQ people, stopped collecting data on LGBTQ Americans, nominated judges with hostile records towards the LGBTQ community, gutted funding for government HIV/AIDS programs that benefit LGBTQ people, promoted homophobic "religious freedom" laws, banned transgender people from serving in the military, and the list goes on and one.
Oh, and let's not forget his second in command, VP Mike Pence, has one of the most antigay records in modern political history.
Responding to Johnson's question, Trump replied: "Well, you know, I just got an award and an endorsement yesterday from the exact group. You saw that? They gave me the endorsement yesterday and I was very honored. It was Log Cabin. The Log Cabin Group. And I was very honored to receive it."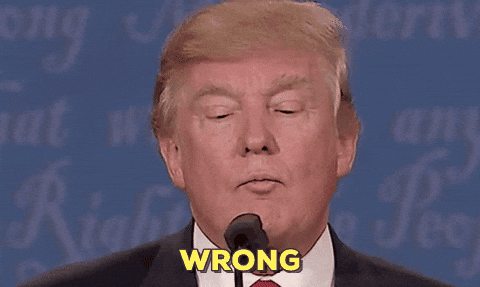 The Log Cabin Republicans, not the "Log Cabin Group" as Trump mistakenly called them, is a fringe organization that does not represent the vast majority of LGBTQ voters in America. Also, they didn't give him an "award," though they did endorse him last week, and immediately after doing so, several of the group's highest-ranking officials formally withdrew their memberships in protest.
Trump continued, "I've done very well with that community and some of my biggest supporters are of that community, and I talk to them a lot about it. I think I've done really very well with that community, as you know, Peter Thiel and so many others."
Ah, yes. Pete Thiel. Trump's billionaire buddy who just happens to be gay, allowing him to use the "I can't be homophobic. My best friend is gay!" excuse.
"They're — they're with me all the way," Trump blabbered on, "and they like the job I'm doing, and I just got a big endorsement from the Log Cabin group."
Watch. Or don't.
REPORTER: Mr POTUS, your administration has been taking steps to make it easier to discriminate against LGBT people in the workforce. Are you okay with that?

TRUMP: Well, the Log Cabin Republicans endorsed me… I've done very well w/ that community. Peter Thiel & so many others pic.twitter.com/W0OMKMzEkT

— Aaron Rupar (@atrupar) August 20, 2019
Related: Karamo Brown from "Queer Eye" thinks Trump's lying former press secretary is "nice" & "very sweet"