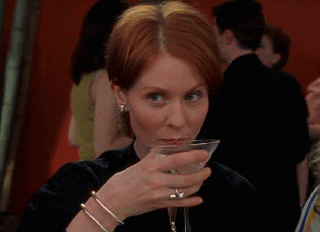 You've no doubt heard by now that Cynthia Nixon (a.k.a. Miranda Hobbes) is throwing her hat into the political ring.
Yesterday, the bisexual Sex and the City actress shared a video on Twitter announcing her candidacy for governor of New York:
I love New York, and today I'm announcing my candidacy for governor. Join us: https://t.co/9DwsxWW8xX pic.twitter.com/kYTvx6GZiD

— Cynthia Nixon (@CynthiaNixon) March 19, 2018
Nixon will challenge incumbent Democratic Gov. Andrew Cuomo in the state's Democratic primary in September.
Related: #WokeCharlotte is righting all the wrongs of "Sex and the City" one meme at a time
Her candidacy is already drawing a lot of reactions from people on Twitter:
Cynthia Nixon is running for governor. Naturally, you may want to question what experience she really has in governing. As a gay man I can assure you that all lesbians are qualified to do literally every job. They are the most prepared humans on the planet.

— Phillip Henry (@MajorPhilebrity) March 19, 2018
Sex and the City's Cynthia Nixon has announced she is running for Governor of New York. Ugh what a Miranda thing to do.

— Ben Gleib (@bengleib) March 20, 2018
Just when I thought it couldn't get worse than Andrew Cuomo. Enter Cynthia Nixon, the anti-semitic socialist.

New York is a lost cause at this point.

— Thomas Hern (@ThomasMHern) March 19, 2018
?: "elect more women & LGBTQ!"

*a wild Cynthia Nixon approaches*

?: "oooh, no no… no."

— bang bang bort (@disco_socialist) March 20, 2018
People are making "Miranda Rights" jokes about Cynthia Nixon, but based on her policy positions I'd say she's more interested in Miranda LEFTS. Thank you. Th—*giant hawk swoops down and takes me away as I scream in terror and pain*

— Patrick Monahan (@pattymo) March 19, 2018
Oprah pegged as a potential 2020 candidate absent any articulation of personal politics or platform

People:Yaas qween!

Cynthia Nixon releases video articulating progressive platform incl. a rejection of corporate $, healthcare, mass incarceration.

People: But is she qualified?

— NeoliBro Antagonist (@briebriejoy) March 19, 2018
'Sex and the City 3' just got interesting.

— Jenny Johnson (@JennyJohnsonHi5) March 19, 2018
It's also inspired quite a few memes…
Related: Guess which superstar just offered to replace Kim Cattrall in Sex and the City 3?