Oh god. Dear god.
By now you've no doubt heard that, for the first time in history, the President of the United States is being sued by a porn star. Well, there's been yet another development in the unfolding story.
This week, Stormy Daniels filed lawsuit against Donald Trump over that alleged $130,000 "hush agreement" he made her sign. In the suit, she suggests that she has, wait for it, "certain still images and/or text messages" of #45.
In other words: Nude photos and sexts. Sent to Stormy Daniels. By Donald Trump.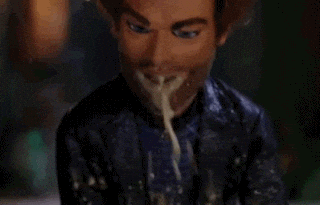 Speaking to Mika Brzezinski and Joe Scarborough on MSNBC this morning, John Heilemann said: "It has raised among many people the speculation that those photographs might be intimate photographs of the president of the United States. I will hope as you conjure an image of that, I will try to just urge you not to throw up in your mouth."
Watch.
Twitter, naturally, had a lot to say about the reports…
I will pay Stormy Daniels a lot of money not to realse those naked photos of Donald Trump…??

— Scott Nevins (@ScottNevins) March 8, 2018
Not only does Stormy Daniels have a story to tell, but she has hard evidence which amount to pictures & text messages with Donald Trump.

Ugh, I can just imagine the day the images are released. Twitter will be inundated with Trump in his Whitey Tighties…

— Brian Krassenstein? (@krassenstein) March 8, 2018
BREAKING: #StormyDaniels releases the first of several lewd photos sent to her by Donald Trump. pic.twitter.com/uD0EX12pYd

— The Incredible Sulk (@TurnUp_TheTweet) March 7, 2018
Donald Trump cheated on his pregnant 3rd wife with a porn star, Stormy Daniels, who's now suing him.

Ladies and gentlemen, I present to you the man who won the Evangelical vote.

— Emilia (@PoliticalEmilia) March 7, 2018
Donald Trump paid Stormy Daniels $130,000 not to release his dick pics.

She is now making vague threats to release them anyway.

FOR THE LOVE OF GOD, GodFundMe this woman until she promises — for real this time — none of us will EVER be exposed to such dreadful abominations!

— Mrs. Betty Bowers (@BettyBowers) March 8, 2018
Related: Trump paid $130K to adult film star to keep quiet about sexual encounter prior to election: report