Everyone's talking about Cher's performance at last night's 2017 Billboard Music Awards show. The 71-year-old diva (she's 71, y'all!) accepted the Billboard Icon Award, where she attributed much of her 50+ year career to luck:
"I think luck has so much to do with my success," she said. "I think it was mostly luck with a little bit of something thrown in."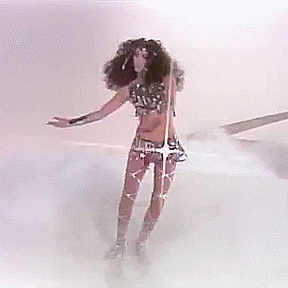 She also wowed the crowd with not one but two of her greatest hits.
First, she lip-synced, er, sang 1998's "Believe" while dressed in a white blonde wig and sequined jumpsuit with a heart over her left nipple. She followed that up with 1989's "If I Could Turn Back Time" while rocking the original revealing one-piece bathing suit she wore in the music video:
Of course, the crowd went wild. Not just for the performances, but for how incredible she looked. During her speech, Cher implied yoga was her trick to keeping her body so amazing, telling the audience:
"I can do a five-minute plank, okay? Just saying."
Then she thanked her mom for everything. So sweet.
Check out what people on Twitter have been saying about the performance…
Cher is 71 and wearing the same barely-there outfit she wore in 1989 and headlining Vegas. I'm 31 and had trouble getting out of bed today.

— Erich Bergen (@erichbergen) May 22, 2017
Cher, Susan Sarandon and Michelle Pfeiffer are 71, 70 and 59 and this is how they look like now.. I guess they really are some witches pic.twitter.com/AH29fMqgBc

— paola ? (@90sIover) May 22, 2017
Jesus Christ you can watch Twin Peaks later @cher is on Billboard and singing If I Could Turn Back Time in the ORIGINAL OUTFIT. She's 71 ?

— billy eichner (@billyeichner) May 22, 2017
If I look like Cher when *I'm* 71 I'm wearing that outfit to Dunkin Donuts, in all honesty.

— DemocracyDiesInOrb? (@ChrisSobolowski) May 22, 2017
Seeing Cher perform at 71 just made me realize Bey got decades and decades left to give us more hits.

— Jehovah Thickness (@GlamazonJay) May 22, 2017
Cher is 71 y'all. Just let that sink in? #BBMAs pic.twitter.com/REl0UNC33R

— Jimmy Neutron (@yaboy_neutron) May 22, 2017
Cher is one example of if you stay unproblematic and carefree you dont age

— D-13 (@Jooheonies) May 22, 2017
Can't believe Cher invented homosexuality

— Shawarma daddy? (@whosjesus__) May 22, 2017
not only has Cher been relevant since the 1960's but she's been consistently serving looks for the past 50 years.

— reggie (@1942bs) May 22, 2017
Cher giving me so much life right now. ?? pic.twitter.com/5Pajr5kShS

— Frank Costa (@feistyfrank) May 22, 2017
Related: 10 Of The Gayest, Most Fabulous, Sonny And Cher Moments In History