(New A-Lister Nyasha Zimucha gets down with Rodiney Santiago)
"Evolve or die" is as true in television as it is in biology. So for the second season of Logo's hit reality series, The A-List New York (debuting Monday, July 26 at 10pm EST), producers have added a new character  friend—Nyasha Zimucha, a recording artist, former Miss Africa and entrepreneur (she owns a wig company ironically called Embrace Your Hair). To welcome her to the fold, Reichen, Rodiney, the Professor and Mary Ann invited Zimucha to the show's Season Two premiere party Tuesday night at District 36 (home to the mega-hot Friday night party Rockit)
Zimucha admitted to us she didn't know too much about the show before signing on (that's probably for the best, dear), but strongly defends her gay street cred:  "Honey, you know my black ass be at Elmo down in Chelsea every weekend!"  More to the point, she brings three essential qualities for any cast member on a gay reality show—drama, levity and good hair.
The first episode of Season Two was screened for the crowd and, though we don't want to give away too much, we will say that Reichen and Rodiney's inevitable split comes early on and that Nyasha gets in a fight with one of the boys. (She's a fast learner, that Nyasha!) Preview clips from future episodes reveal that Austin will pose for Playgirl (duh) and Rodiney will hook up with a woman. (Was it that bad with Reichen?).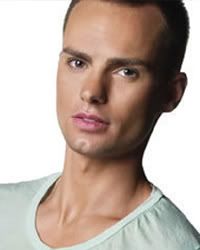 Before leaving the bash, we also kiki-ed with cast member Derek Saathoff, a modeling agent (and self-professed daily Queerty reader), who admits he's learned a few lessons from Season One. "I'm trying to keep my goddamn mouth shut! I said some horrible things about a lot of people… and I don't want to hurt anyone's feelings," he confesses. "I'm trying to be careful with how I word things, but I also want to come with an honest perspective." It may be hard for Derek to hold to that  since, in his own words, he's dealing with "a cast of assholes." When asked what he thought about the addition of Nyasha Saathoff says he's "glad she's a part of the cast this season—[it's better] than dealing with another gay asshole."  We see you've got the diplomacy thing down already, Derek!