Bryce Powers from the upcoming season of The Bachelorette is more than just a pretty face. He's also kind of a dirtbag.
This week, the bios for the season 13 contestants were released and–oh, guess what?–one of the guys has already cracked a transphobic "joke."
When asked what his what his biggest dating fear was, Bryce replied: "The chick is actually a dude."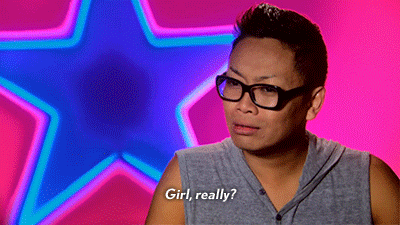 Whether the 30-year-old firefighter from Orlando meant to insult an entire community of people who are already marginalized or is just that dense is unclear, but as Elite Daily points out:
Careless statements like his only serve to further alienate the trans community. They continue to perpetuate our society's popular, yet wildly incorrect assumption that trans people are simply "men disguised as women" or vice versa, seeking only to deceive innocent dudes, like himself.
The Internet was not having any of Bryce's transphobia either:
Bryce from the Bachelorette's biggest fear is trans women who are attempting to conceal their birth sex. I see why yer single, douche bag.

— Sharon Needles (@SHARON_NEEDLES) May 19, 2017
well 'Bryce' from The Bachelorette, my biggest fear is that my weird-headed Elven date turns out to be a transphobe pic.twitter.com/H5T1JDFOrF

— Bec Shaw (@Brocklesnitch) May 19, 2017
I'm going through these Bachelorette profiles and I just wanna say one thing loud and clear: FUCK Bryce pic.twitter.com/IW7SF0b0KI

— Trent (@BarstoolTrent) May 18, 2017
Bryce from the Bachelorette needs to humble thyself. head shaped like a slice of bread. i promise no trans woman wants ur Kia Soul head ass. pic.twitter.com/9illA3ZPAo

— emi (@sluttysunflower) May 19, 2017
Dear Bryce, on behalf of trans women I can assure you: none of us want to date your bland preppy 1980's teen movie villain rhombus ass. xo https://t.co/VbcN4bya4s

— Jen Richards (@SmartAssJen) May 19, 2017
But if Bryce is the least bit bothered by the response his remarks have gotten, he doesn't appear to be showing it. Rather than, say, issue an apology or offer an explanation for what he said, he tweeted this:
Got some new threads in at work! #firefighter #firetruck #bachelorette pic.twitter.com/3tw8kjYKGF

— Bryce Powers (@bdpowers5) May 19, 2017
Related: Straight "Bachelorette" Contestants Aren't Gay. In Fact, They're Kinda Homophobic