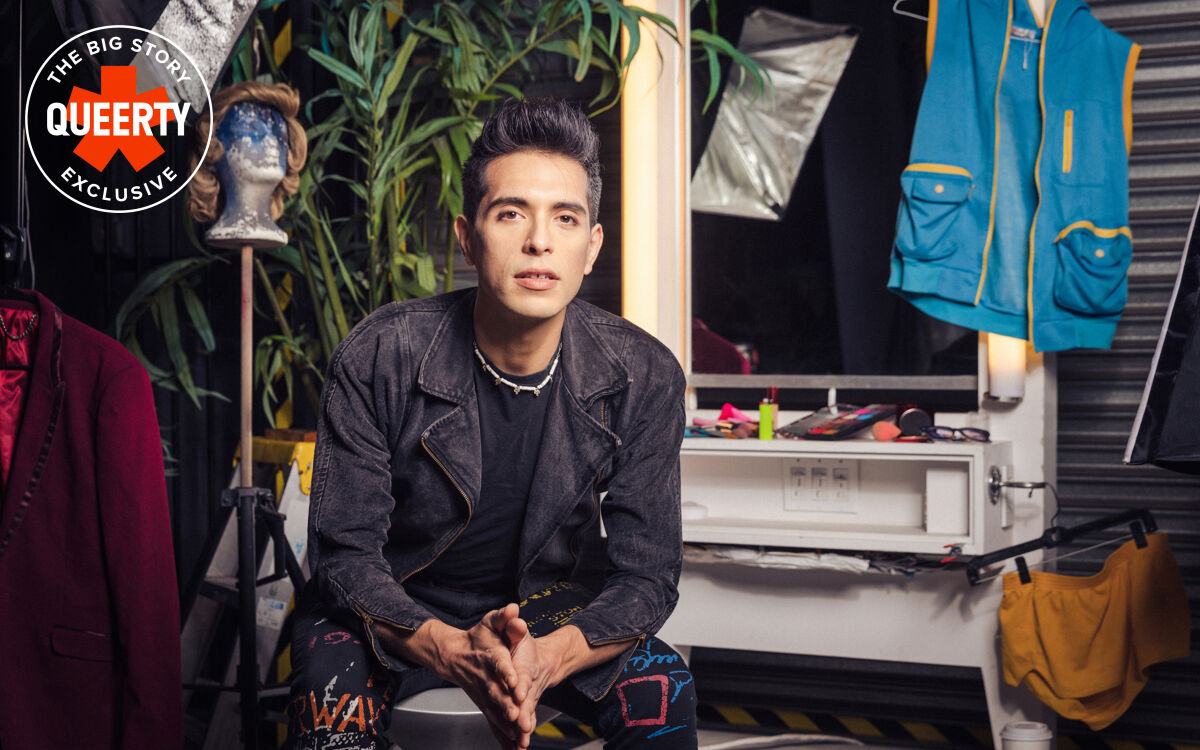 Brandon Rogers. Photo by David G. Zimmerman for Queerty
One late afternoon in 2015, Brandon Rogers clocked out of his receptionist job at a San Gabriel Valley law office and, instead of going home, unpacked two handheld cameras and a light stand with creaky metal shutters. Actors replaced coworkers, and cubicles transformed into a set for the racy mockumentary-style sketch "Angry Office."
Rogers, sporting aviator sunglasses, plays Dorian Ditsen, head of marketing, who tosses insults like disposable Keurig cups.
"Move, I'm gay," he orders, pushing his way to the copy machine. An authoritative voiceover chimes in: "In the workplace, being gay has its perks. You're just simply a better person."
Unknown to Rogers at the time, a meme was born that day.
Internet-savvy people worldwide now know the joke (his combined fans on YouTube, TikTok, and Instagram top more than 9.4 million), but many don't realize the comedian's trajectory has been a decade in the making.
"It's weird," Rogers, 34, tells Queerty over coffee in West Hollywood. "Every Pride, I see something — a folding fan or a T-shirt with the phrase on it. I didn't expect that it would blow up in that way."
And it's not his only viral moment. To date, Rogers has uploaded more than 235 YouTube videos, playing an array of characters that echo the perverseness of John Waters and the chameleon-like quality of other comedians like Sacha Baron Cohen and Rowan Atkinson.
Related:

They helped turn the tide for a community that was once relegated to being the butt of the joke to leading the wave of groundbreaking comedy. 
In 2016, to celebrate one million followers, Rogers released "A Day at the Park." Dressed in a hot pink tracksuit and pageboy wig, he plays (among others) Cathy, a mother on a frantic search for her son, Timmy. Delivering a master class in hysteria, Rogers pummels through the park and eventually belly-flops onto a picnic table. The video has been viewed 52 million times.
And in the comedic tradition of celebrity roasts, Rogers took himself to the spit in 2022 with a meticulously edited video featuring nine of his most famous characters, including host (and kid-hating hall monitor) Helen Brownstein.
Rogers is now on a 21-city live tour titled It's Business, B*tch, which he describes as a "really chaotic Ted Talk" starring one of his most notable characters, Bryce Tankthrust, a hard-hitting female CEO who makes the Real Housewives look like a potluck book club.
It's his sixth tour, and though Rogers loves the real-time interaction with fans, many who have followed his work since the beginning, the uptick in anti-drag vitriol has taken its toll. He recently canceled a Nashville, Tennessee show after neo-Nazi protests at a drag brunch in the nearby college town of Cookeville."It does have a sense of risk, especially now, playing a woman," Rogers says. "What got me concerned was that I'm doing this show with my assistant. It'd be different if I was by myself, but I feel like if there was any form of danger, I could not bring someone into that with a good conscience.
"The whole point of my existence has been to push the boundaries and go into public places as characters. It really sucks because I just didn't think we would be having this conversation in 2023."
The cancellation comes in the wake of Tennessee's war on drag — legislation signed by Governor Bill Lee that prohibits "male or female impersonators" from performing in a location other than an adult cabaret.

"What Tennessee is trying to enforce is so vaguely written," says Rogers. "What's to stop someone from applying the law to a trans person who's onstage reciting poetry at a coffee shop?"
Since the onset, Rogers has explored gender norms through his art. Beyond an initial viewing, where shock value and F-bombs take focus, Rogers challenges viewers to reconsider women's roles as mothers, corporate figureheads, and independent thinkers.
Rogers describes Bryce as his "peacock character" — not only powerful but beautiful. "It walks the line between drag and classic clown work, in the sense that I'm not just trying to be glamorous, but I'm also having her thoughts," Rogers says. "I'm not just putting her on and doing a performance; I'm creating a whole series and essentially living with her. I like doing Bryce right now because a lot of my audience is straight. And I think that a lot of them don't realize they're watching drag."
Rogers is among a wave of boundary-pushing comedians making their way into mainstream America. Jerrod Carmichael, Mae Martin, and Wanda Sykes are among the talent Netflix has recently tapped for solo specials, while HBO Max has leaned into scripted series with queer themes like Somebody Somewhere and The Last of Us. But Rogers is getting the last laugh, forgoing negotiations with Hollywood executives in lieu of an independent production company where he maintains creative control and self-produces his own unique style of comedy.
Related:

We're celebrating 8 comedians whose stand-up is as unhinged with gayness as it is hysterical.
On set with Brandon Rogers
While touring connects Rogers with his fan base, his YouTube channel is the primary financial driver supporting his artistic pursuits.
"It's essentially the same as when I Love Lucy was airing ads, except they can track who watches and for how long," Rogers says. Profits are split, with creators earning 55 percent of advertising revenue.

"All my money goes into rent or the videos," Rogers says. "I rarely spend money on myself. I never go on vacation. I have a lot of money saved, I just don't spend it. I'll put it this way: It's a very well-paying job, even for smaller creators, if you have a good manager or someone getting good sponsorships. It can be a lucrative career." (With 152 million subscribers, MrBeast — aka 25-year-old Jimmy Donaldson — earned $54 million in 2021.)
With over six million YouTube subscribers, Rogers has created a viable business model but is steadfast in keeping production in-house.
It's an unusually cold and rainy April day when we meet Rogers at Cosmic Cube Creative Studio in Temple City, about 30 minutes east of LA. The 30,000-square-foot multiuse venue houses over 26 different sets, including a sushi bar, a hospital, and what appears to be a sex dungeon (an adult film company also rents the space). Mannequins in various states of undress jut out; an eight-foot replica of the alien from Alien vs. Predator looms overhead with giant test tubes marked Area 50.
Initially, Rogers booked time blocks, but for the last four years, he's been a regular tenant in what he calls a "Saturday Night Live situation, where it's a bunch of pieces to build whatever set we want to make," Rogers says. "It feels like a giant toy box."
"I hated having to be rushed, and I don't like having to put a lot of effort into planning the shoot day," Rogers continues. "My dream is to one day live in a house big enough to where I can live on-site with the sets that I film in or have a studio attached."
After a quick smoke break, Rogers returns in Rita Repulsa Reeboks and squirts a few eyedrops before filming begins.
"If the earthquake wasn't bad enough for ya, some *sshole started a forest fire," Rogers yells, portraying a newscaster covering a fictional natural disaster. The five-second scene is part of his latest release, "Earthquake Goes Horribly Wrong," starring Rogers as the flamboyant Sam alongside one of his regular costars, Paulette Jones, whom he met in 2015 while working a one-time gig as a commercial casting director.
Although she didn't land the job, her "very boisterous, powerful presence" was exactly what Rogers wanted for his roster of guest stars. He grabbed her phone number off her headshot and resume, called her up, and the two met the following day and chatted for three hours in a local coffee shop.
"We just talked about ideas of what we could do. She's always been just game for anything, and she's worked with me ever since," Rogers says. "She's just an amazing actor — very talented, very fun, and can improvise like crazy. She'll just pull shit out of her *ss like nothing."
Back on set, Rogers' assistant Liam Krug shakes the camera to simulate a high-magnitude earthquake. While the result is classic Brandon Rogers — chaotic, boisterous, and emotionally heightened — his vision is crystal clear. Rogers vacillates between actor and director, peering through the lens, adjusting the camera angle, and reconsidering each of the dozen takes that will ultimately result in five seconds in the final cut.
Rogers deems it unnecessary to chase the YouTube algorithm to maximize viewership, likening it to chasing the wind.
"The algorithm changes every year. There used to be all kinds of YouTube workshops and classes, both official and unofficial, dedicated to growing your channel," Rogers says. "I've learned that the one constant is that if the work is good, one day the audience will find it."
Rogers' creative process has remained relatively the same.
"On a heavy work day, if we have a lot of extras or a lot of moving parts, I'll have maybe four people working under me. In 2016 and 2017, when my channel was blowing up, I did throw a lot more money at the crew and tried having more cooks in the kitchen. And I learned that it became very cumbersome," Rogers says. "Having a smaller crew gives it that passion like we're making something in our backyard that we're all really into, as opposed to everyone's just a piece of a cog."
The beginning of the Brandon Rogers cinematic universe
The camaraderie of putting on a show in the backyard is a far cry from the comedian's experience growing up in the small town of Livermore, California, an hour east of San Francisco, which he describes as "a pretty straight-laced cowboy community. Livermore looks like the straight town that a gay person grew up in in almost every movie," Rogers says. "I was about as far out of place as could be in that town — it was a place where you dream about being somewhere else."
Rogers is the oldest of three. His father was an engineer, and his mother, an accountant. A mix of Portuguese, Spanish, Filipino, and Scottish descent, he always felt on the margins in the majority-white town, amplified by the fact that his features didn't resemble his parents.
"If I was traveling with my mom, especially in another town, people would give us these looks, like they were thinking, 'Oh, bless your heart. She's adopted this kid,' " Rogers recalls.
His parents divorced, and the closeted teen would write short sketches with a small group of friends, recording and editing them in real-time on VHS tapes, and then screen them during lunch period.
He uploaded the videos to the early social media platform MySpace. YouTube launched shortly after, and Rogers "immediately sprung into action," establishing his account in the high school library computer lab in January 2006 — the account he still uses today. "Even then, I had a mission statement in my head, like, 'I'm gonna make videos that people love to laugh at,' " Rogers recalls. "I wanted it to be a secret little thing that people came home to, like pocketed laughter."
After graduating from high school, Rogers stayed in Livermore, taking classes at Las Positas College. Though he lost interest in earning a degree, Rogers spent four years studying with "small-town, passionate people who cared about what they taught, taking everything from acting, speech and debate, writing, and improvisation to an internship at the local public access television station. And then when I was ready, I just dropped out and moved to LA," says Rogers, "but I wanted to feel like I could come to this town and be a quadruple threat."
After some odd jobs, Rogers embellished his resume ("I didn't lie about anything I couldn't back up") and was hired as a receptionist in a personal injury law office. Thanks to his videography experience, Rogers was sent out on location to interview plaintiffs and create day-in-the-life videos.
"Let's say you are a father and you break your knee. I'd be sent to film how his life was affected by creating a short documentary, kind of like The Office, where they're talking to the camera, mixed with the b-roll footage of their day," Rogers says. "I was a one-man band. I would edit the most soulful, dramatic, sad things together with background music."
The videos were successful in court, and Rogers realized he could parlay the formula into comedy with a similar but highly amplified style. "I was always very drawn to the TV promos of The Office, when they would show just the most chaotic parts of the episode. And I remember the feeling that those would give me, like, 'What's going on? Why is he diving across the desk?' I really love those moments," Rogers says.
"I like creating videos that are two to three minutes long of a character who exemplifies those chaotic bits without any of the fluff in between," Rogers says. "Because with the internet, especially when you're watching content on your phone, the camera subtracts vivaciousness — it loses the bombastic nature if you were to see that in person. So if people are watching on such a small screen, actions have to be big, they have to be wild, and they have to be what other people aren't willing to do."
"That's what sets the channel apart," Rogers continues. "That's what John Waters said about the reason why Divine eating dog sh*t at the end of Pink Flamingos is so iconic and will always be iconic, because no one will ever want to do that. I feel the same way."
By late 2015, as Rogers continued to post YouTube videos, other creators began uploading excerpts of his work to another defunct short-form video platform, Vine. He quit the law firm and took one-off production jobs to stay afloat. But without consent or compensation, Rogers was gaining anonymous notoriety, unsure how to crack the code. Until one viral YouTube video pointed fans in the right direction.
Before their fall from grace amid hostile workplace allegations, brothers Benny and Rafi Fine built an empire out of pop culture reaction videos through their company, React Media.
"They made a video crediting me," Rogers recalls. "They literally took the internet and pointed them to where they were coming from." The next day, he woke up to 17,000 new subscribers.
"The internet found the whole other sea of videos that I've been making for years," Rogers says. "It really was touching to see that it wasn't just wasted time."
With increased views of his archives, Rogers capitalized on the opportunity and began producing with more regularity, developing more characters, and widening his circle of guest stars, including RuPaul's Drag Race stars Kornbread "The Snack" Jeté and Jinkx Monsoon.
Rogers and Kornbread originally met on the set of a 2017 music video for MC Crumbsnatcher and have collaborated ever since. "I learned more about myself in drag with Brandon, doing his videos, than during Drag Race," Kornbread tells Queerty. "Drag Race upgraded my life, but literally, without Brandon, I don't think I would have gotten on Drag Race."
Rogers was initially cautious when inviting Kornbread to participate in his madcap antics.
"When we first met, he'd be afraid to ask me to do stuff," Kornbread says. "Now he knows now that I'm just as crazy as he is, like 'Can you jump in this trash can and roll around on the ground, then run across the street in the middle of traffic?' and he won't bat an eye."
The two now consider each other to be family. "You see the trajectory of how far we've both come and you start to realize you have a chosen family without even realizing you've chosen," Rogers says. "You're in it."
House plants make the best roommates
Despite a small number of friends — including animator Vivienne Medrano, with whom Rogers collaborates as a voiceover artist on the adult animated series Helluva Boss, and YouTube's modern-day answer to Oprah, neighbor and confidante Anthony Padilla — Rogers leads a solitary life.
"I don't really have a circle of friends," Rogers says. "I know. It sounds sad. But I really don't."
He'll occasionally join LA actor, writer, and director Jack Plotnick (whom Rogers describes as LA's "gay about town") for a drink in West Hollywood but otherwise keeps a low profile.
"It's a really tame social life, if any. I live alone, and I love living alone," says Rogers. "We're always in production, rushing and trying to get everything done, or it's an afternoon and I have nothing to do. And I thrive in both headspaces."
Rogers prefers company of the botanical variety.
"I have plants. I've let a couple pothos plants [climbing vines] just go in my bedroom. I have hooks that curl up into the ceiling. You should see my bedroom — vines everywhere. It's like I live in a jungle. That's the only social life I have, keeping those f*cking plants alive," Rogers says. "It also doesn't feel like I need a social life because I'm always on set with people that I love, actors I've worked with for many years. It's a very personal set to be on."
Rogers is tight-lipped about what other current artists inspire him beyond his inner circle. "There's always been something that's inherently turned me off about being inspired by something that appeals to the masses," Rogers says. "Like eating out of a cookie jar that everyone else's hands are going into."
As Rogers' tour concludes with performances in the swing states of Virginia and Georgia and a final performance in Orlando, Florida on June 3 — ground zero for LGBTQ+ rights and visibility — he's already planning future installments of his limited series BRYCE, featuring his namesake CEO, but on his own terms.

"I don't want to crank out bullsh*t just to make YouTube's algorithm happy, because then you have a whole resume of trash that you're sitting on. I've had videos from years ago blow up way later," Rogers says. "At the end of the day, the internet is a shouting contest. But what sets your voice apart from everyone else?"