This just in: Pretty much everyone in Donald Trump's family is absolutely miserable. The latest member of the Trump Klan to report living in absolute hell for the past six months is his eldest son and namesake, Don Jr.
Melania Trump's unending anguish has been well-documented since the very first time Donald Trump abandoned her at the foot of the White House stairs, followed shortly thereafter by this: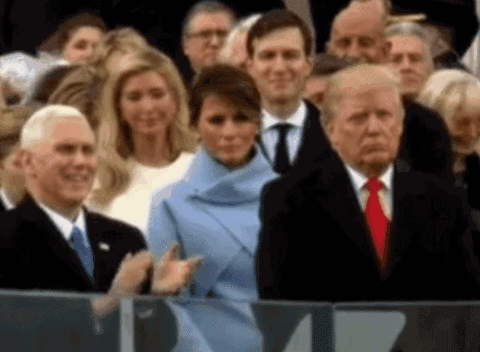 Then there were reports that Jared Kushner was a pariah with no friends and that his fellow White House staffers often laughed at him behind his back.
Even Donald himself appears quite unhappy in his new role as POTUS, complaining about anything and everything, throwing late night Twitter temper tantrums, and having his daughter sit in for him at meetings with international leaders when he's just not feeling up to the task:
Now Donald Trump Jr. is also reportedly feeling very gloomy. A source tells People that Little Don has been in a serious funk since daddy took office. Apparently, no one wants to hang out with him or do business with him, so he spends his time moping around and wishing for these next four years to hurry up and be over.
At least that's one thing we can agree upon.
According to PEOPLE:
Most weekends, he escapes Trump Tower Manhattan to a rustic cabin upstate with his wife, Vanessa, and their five children. He's a regular at the Riverside Café in Roscoe, New York, where the manager says Trump Jr. is "good people," doesn't seek attention, and "never has his hair slicked back like he does on TV."

Adds a source in their circle: "Don can't do any deals, because he'll be overly scrutinized. He just goes to work every day and is miserable."

…Adds the source in the brothers' circle, "You can't bite the hand that feeds you, but he [Don Jr.] can't wait for these four years to be over."
Poor thing.
Related: Donald Trump Jr. thinks "triggered" LGBTQ students are insipid crybabies