It's that time of year again. Madonna's birthday. Otherwise known as August 16.
The Queen of Pop was born in Bay City, Michigan 56 years ago today. Whether you're a fan of her music or not, there's no denying the lasting impression she's had on pop culture over the past 31 years. She's sold over 300 million records, performed in thousands of sold-out stadiums around the world, won countless awards, and amounted an estimated $700 million fortune in the process. And she's not finished yet. Word on the street is, she's putting on the finishing touches to her thirteenth studio album due out some time this year.
Our love for Madge is long and strong. To commemorate her latest birthday, we've compiled 56 GIFs — one for each year of her life — that explain just why we love her.
Scroll down to check them out. And join us in wishing Madonna a very happy birthday. Long live the queen!
56. She knows how to rock a pink leotard.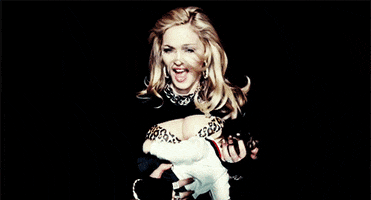 55. That time she breast fed a Cabbage Patch Doll.
54. She knows where happiness lies.
53. She can kick Lady Gaga's ass.
52. The graceful way in which she rides a mechanical bull.
51. This hat.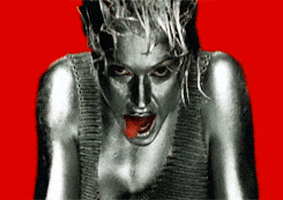 50. That time she painted her entire body silver.
49. She doesn't give a %! what you think about her.
48. No seriously, she doesn't give a %!.
47. That time she caught a live squid while dressed in a black bikini.
46. She uses big words.
45. She can pop her booty better than you.
44. She can wear tassels better than you, too.
43. She tells it like it is.
42. Her high kick is flawless.
41. She knows her strengths.
40. And she knows her weaknesses.
39. Did we mention her high kick is flawless?
38. She's like a fountain of wisdom overflowing with profound spiritual advice.
37. She chews gum and files her nails just like everybody else.
36. The dramatic way in which she closes her car door.
35. She always gets what she wants.
34. And she won't be interrupted. 
33. She doesn't let anyone get in her way.
32. And if you do get in her way, you better watch the %! out!
31. She looks way sexy in a body suit.
30. Her energy knows no bounds.
29. That time she pretended to play an old piano while wearing rabbit ears and a corset.
28. That time she rolled around on stage in a wedding dress at the MTV Music Video Awards.
27. Her taste for younger men.
26. This butterfly mask.
25. She's not afraid to let her hair down.
24. Her rendition of "Don't Cry For Me Argentina."
23. Her ability to sexualize anything. Even a game of chess.
22. She knows how to make an entrance.
21. And she knows just when to exit. 
20. That time she did this.
19. Her mad bubble gum blowing abilities.
18. How she always surrounds herself with beautiful men no matter what.
17. Sometimes she's just over it.
16. She is her own hero.
15. That time she threw a baseball on Ellen while wearing a custom-made Jean Paul Gaultier bodice.
14. That time she licked a microphone while dressed in her underwear in front of a stadium full of people.
13. The gold tooth.
12. Sometimes she makes mistakes. (She's only human, after all.)
11. But at least she looks great when wet.
10. Oprah is a huge fan of her music. Huge.
9. She believes in love.
8. She doesn't like hydrangeas and she's not going to apologize for it.
7. She can twirl around really fast without getting dizzy.
6. She's not afraid to call people out on their crap.
5. She's rich as hell.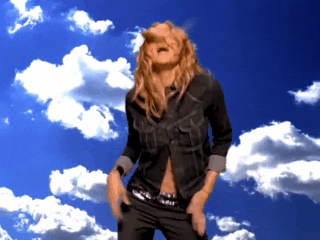 4. She's probably the only person in the world who can pull off wearing a jean jacket as a shirt.
3. That time she had us seeing triples.
2. She doesn't have any regrets.
1. That time she deep-throated a bottle then swallowed its contents.