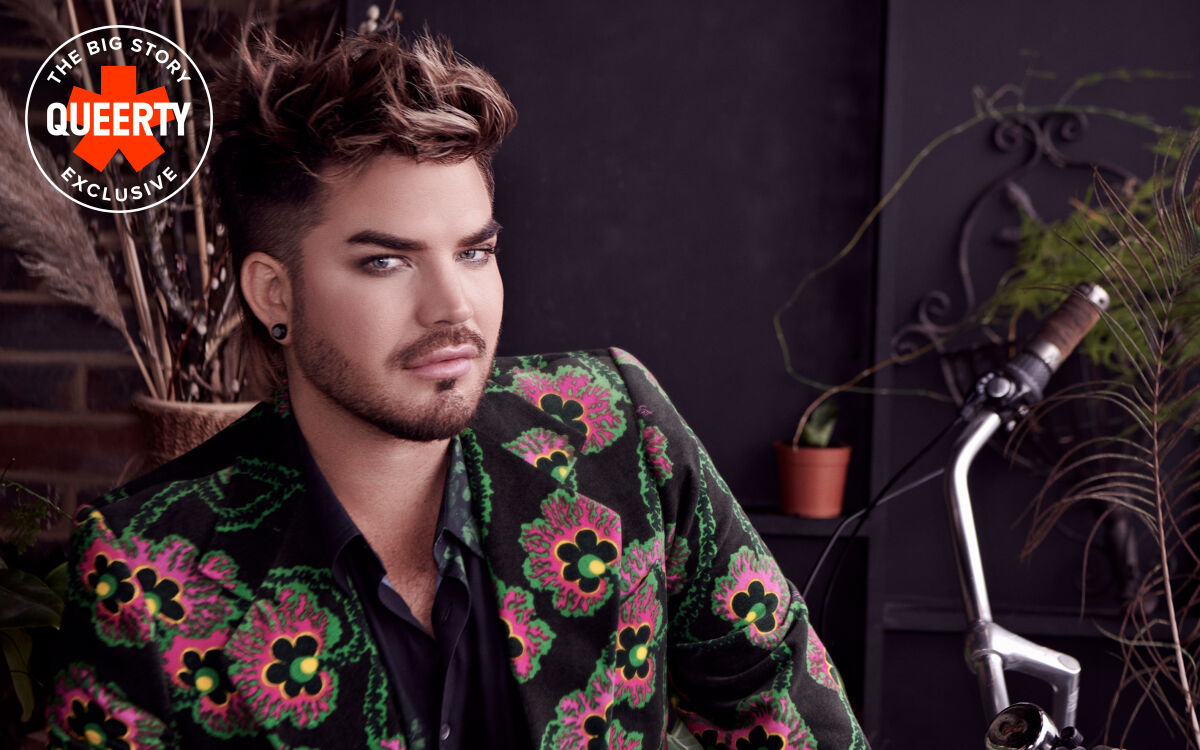 Adam Lambert
On a bright, bitter cold day in Park City, Utah, Adam Lambert trudges to a photo op, stepping carefully around icy patches of the sidewalk.
Even bundled in a knee-length puffer coat, he's giving glam and can't help but catch the eyes of passersby, many of whom cut through snow to get closer, to ask the former American Idol contestant for an autograph.
Lambert pauses to offer warm hellos, but the life of a rock star never stops moving — except when our entourage nearly collides with a marriage proposal.
"Oh my gosh, congratulations," he says excitedly to the newly affianced couple. The eyes of both widen as they realize, "Wait, Adam Lambert's the first person to tell us congrats!" As if their special moment wasn't already memorable enough.
This kind of random celebrity run-in isn't uncommon in Park City — at least not this particular week, when the Sundance Film Festival takes over the scenic ski town with independent movie premieres and the kinds of intimate yet star-studded parties that typically only happen in Hollywood.
But even when every third person you walk by is a famous actor, there's an undeniable rush in encountering a larger-than-life artist like Lambert, who's loud and proud style of performance has been blowing minds and raising eyebrows for nearly 15 years.

It's here at Sundance that Queerty catches up with the rocker, on the eve of his dramatic film debut and the release of a brand-new album. Fittingly — nestled between the towering peaks of Utah's Wasatch Mountains — Lambert's ready to take his career to some thrilling new heights.
"I think I understand my brand more than I ever have," says the singer-songwriter, who turned 41 at the end of January. "I'm known for being over the top, theatrical, camp, and all that sh*t. I love to put a wild outfit on, wear my makeup … everyone knows when it's me walking by."
It's with that mentality that Lambert has assembled his fifth solo studio album, High Drama — a soaring, shimmering selection of cover songs that burst with new life thanks to inventive arrangements and goosebump-inducing vocals, which remain as powerful as ever.
Lambert lays out the criteria for the track list: "Is it a song that I love? Is it a song I feel like I can reinvent and change drastically? And, thirdly, is it 'high drama'?" he adds with the appropriate flair.
Since the early days of the pandemic, Lambert has been hard at work on a long-brewing original rock musical that he's keeping under wraps until the time is right. The cover album presents an avenue to tide his fans over, all while allowing Lambert to do what he loves most: perform.
"Even though I'm not writing the songs, I'm still getting to flex my creativity," he says, citing the tight-knit team of collaborators who helped bring the covers together, including, among others, producers Tommy English and Andrew Wells. "It just sounded like a fun challenge, and I knew it was something we could quickly put out for fans and be proud of. We did it fast and hard," Lambert says, laughing, "and I'm so happy we did."

High Drama's concept was partially inspired by Lambert's performance of Cher's "Believe" at the 2018 Kennedy Center Honors — a soulful rendition of the Goddess of Pop's best-selling hit that had everyone in tears. Even Cher.
"The response to that was just so positive, so that was the seed of the idea," Lambert reveals. "I wanted to pay tribute to these songs that I love, while also reinventing them."
Early singles from the album, Duran Duran's "Ordinary World" and Bonnie Tyler's "Holding Out For A Hero," have met with high praise, and other standout tracks feature covers of songs by Billie Eilish and Lana Del Rey, and a song penned by ​​gay playwright Noël Coward, who Lambert cites as a longtime favorite.
It's not lost on Lambert that, in covering an eclectic collection of songs, High Drama harks back to the place where he first made a name for himself, American Idol, which turned karaoke into a path to full-blown superstardom.

Back in 2009, at the beginning of Idol's eighth season, his audition was an unforgettable standout, using his one-of-a-kind voice to put a unique spin on Queen's rock-opera epic "Bohemian Rhapsody" (a delightful harbinger for the career to come).
Simon Cowell, ever the curmudgeon, might've knocked him for being "theatrical," but the judges unanimously waved him through to the next round, eager to hear more.
Week after week, Lambert endeared himself to the audiences watching at home. No matter the song or genre, he demonstrated incredible control over his instrument, showing off a seemingly limitless vocal range.
"Adam was one of my favorite contestants on the show of any season," David Archuleta, who placed second on Idol season seven, tells Queerty. "He was amazing with his stage presence and voice and songs."
Ultimately, Lambert met the same fate as Archuleta on the show — landing just shy of the win behind the more stripped-down Kris Allen — but his time in the spotlight was far from over.
Later that year, Lambert released his debut album, For Your Entertainment, including the smash-hit single "Whataya Want From Me." His sophomore effort, Trespassing, went to No. 1 in 2012, making him the first-ever openly gay singer to top the Billboard album charts.
In the decade since, Lambert's continued to create acclaimed new music, started his own nonprofit advocacy group for the LGBTQ+ community (the Feel Something Foundation), made noteworthy TV appearances (Glee and RuPaul's Drag Race among them), and toured the world with a little band known as Queen — stepping into the shoes of the late, great Freddie Mercury like no other could.
And now, Lambert has made the trek to Sundance to add one more title to his multi-hyphenate status: movie star.
Plenty of Idol alum before him have made the transition into acting: Jennifer Hudson won a 2007 Oscar for Dreamgirls, Jordin Sparks sparkled opposite Whitney Houston in 2012 — even Archuleta led a Filipino TV series titled Nandito Ako.
But with Fairyland, Lambert marks his on-screen feature acting debut and joins rare company among the singing competition's former stars: He doesn't sing in the film.
From filmmaker Andrew Durham and produced by Lost In Translation's Sofia Coppola, Fairyland is an adaptation of Alysia Abbott's memoir, which recounts her childhood in San Francisco in the 1970s and '80s, living with her single gay father against the backdrop of a rapidly changing queer scene, from the booming growth of the historic Castro district to the height of the HIV/AIDS epidemic.
Lambert enters the picture when Alysia (played by Coda's Emilia Jones) is a teen, and portrays the fun-loving Charlie, who begins dating her father (Halt and Catch Fire's Scoot McNairy).
It's a supporting role — just a handful of scenes — but Durham was keen on finding someone who could make Charlie instantly likable, flaws and all.
"[Charlie]'s having a great time, and maybe a little messy," the writer-director shares with Queerty, "but I did not want a contemporary audience to judge him, so by making him likable you hopefully get over that hurdle right away. Adam brought that likeability to Charlie; he made him funny and relatable."
Durham was "super excited" to see the musician for the part after hearing he was branching out into acting. The director says Lambert arrived on set as "a real pro" and made friends with everybody.
"What I remember most was how he got into character so fast and really blew us all away with his performance," says Durham.
And the director's not the only one impressed: Even with limited screen time, film critics at Variety and The Hollywood Reporter have singled out Lambert's work, remarking on the "warmth and humor" he brings to the film.
Considering Lambert couldn't even cross the streets of Park City without drawing attention, his film performance delivers a charming, unforced charisma and snugly fits into Fairyland's specific sense of time and place.
Catching up with him after the Sundance premiere (his second time seeing Fairyland) he admits it had him crying all over again. "It took my concealer off on the side. I was mad," he jokes.
"I just f*cking love the story; I loved the book," raves Lambert, who's always felt a close connection to San Francisco thanks to his family's ties to the city. He had an aunt and uncle who lived in the Castro throughout the 1970s, and he remembers home movie footage of his mom's visits with them, where she could be seen "running around with drag queens at the Pride parade."
"Our community is under attack again. Seeing a universal story of a father — who happens to be gay — a single father raising a little girl, I think it's really important right now."

Adam Lambert
Through Fairyland, Lambert could see glimpses of his mom's own coming-of-age story, but he also recognizes it as an opportunity for a wider queer audience to contextualize "our own history, which hasn't really been taught to us very well."
Thinking broader still, he hopes the familial relationship at the film's core will resonate beyond the queer community, especially at a time when so much hateful anti-LGBTQ+ rhetoric is directed at queer adults and their influence on youth.

"Our community is under attack again, much like it was in the '70s," says Lambert. "You know, 'What about the children?' And I think seeing a universal story of a father — who happens to be gay — a single father raising a little girl, I think it's really important right now."
While Fairlyand boasts a queer-inclusive cast and crew, it's notable that the film's leading gay role — Alysia's father, Steve — is played by McNairy, who is straight.
Lambert chuckles when it's brought up, because he knows where this is going: Just a few days prior to Sundance, the singer made headlines due to a comment he left on The Advocate's Instagram post that mentioned a rumor that The White Lotus' Theo James was being courted to play legendary musician George Michael in a biopic.
"Yay another straight man playing a gay icon," Lambert wrote at the time — accented with an eye roll emoji.
"My comment in no way suggests that I feel straight actors can't play gay roles," Lambert clarifies, "because I think they do it really well. I mean, Scoot McNairy's incredible — a soulful performance, really beautiful. I couldn't see anybody else doing it"
Related:

"There's just been so many doors close to our community for so long," Lambert tells Queerty. "You've got to start somewhere."
In Lambert's eyes, it's not so black and white. He hopes to keep the conversation going and that more queer actors are cast in roles of all kinds.
"I love a debate. I love talking about complex sh*t. I'm down to be on the chopping block for a minute if it means we're gonna have a really good conversation."

Adam Lambert
"There's just been so many doors closed to our community for so long. You've got to start somewhere. You've got to start giving people opportunities so that we do have big gay movie stars."
As for any blowback he might've received, Lambert welcomes it with open arms: "I love a debate. I love talking about complex sh*t. I'm down to be on the chopping block for a minute if it means we're gonna have a really good conversation."
After all, he's pretty familiar with the chopping block — he spent many of the first years of his career there. Lambert has since said it was "probably" homophobia that cost him that Idol win. Even positive press about his run on the show called his sexuality into question, especially after photos leaked showing Lambert in drag.
Lambert had been living openly as a gay man in Los Angeles for eight years prior to appearing on Idol — it's just that his queerness was never explicitly addressed on the show. A few weeks after the season wrapped, Lambert came out publicly to Rolling Stone.
"I'm proud of my sexuality," he told the magazine at the time. Lambert was eager to move forward in his career, leaving his more buttoned-up TV persona behind. But the world wasn't quite ready for him.
"When [Adam] came out … it was one of the first times I saw representation from someone who was gay and it being discussed," says Archuleta, who came out as part of the LGBTQ+ community in 2021 after years of struggling to reconcile his sexuality with his Mormon upbringing. "To be honest, it caused a lot of discomfort and uncomfortable conversations, because it was still taboo to be 'showing' your queerness, and it was controversial."
And that's exactly what happened.
At the 2009 American Music Awards, a performance of "For Your Entertainment" featured the musician kissing a male band member and grabbing another performer's crotch, which was instantaneously dubbed "racy" and "controversial."

In its wake, viewers expressed their outrage, with a representative from the Parents Television Council decrying the performance, saying their members couldn't "believe the nature of the content, the explicit nature, and how much graphic content there was." Many of Lambert's subsequent televised performances were canceled.
"My record label was freaked out — everyone was freaked out … I was scared that I had ruined my career," says Lambert.
There were queer musicians before him (Mercury, Elton John, Boy George), more would come out in the following years (Ricky Martin, Frank Ocean), and Lambert even had a few contemporaries who weren't hiding their sexuality (Mika, Semi Precious Weapons), but few were doing it on as big of a platform as him post-Idol.
But Lambert has never been one to tone it down.
"I've been in this business now for over 10 years, and it is weird. It's exciting. It's f*cking surreal. It's sometimes challenging, sometimes frustrating — especially back then, you know, being a queer guy going into the music industry, which at the time was not necessarily open arms for gay men."
As he enters the next big phase of his career, Lambert's success has been hard won. But that doesn't mean it's time to coast; he recognizes that there are still plenty of reasons to keep fighting, to keep pushing the envelope, to keep bringing the drama.
"I feel like I haven't lost my drive yet," he says. "I feel like there's a fight that exists in me to try to prove the point that you can be a queer artist and have a space and affect other young people — queer or otherwise — and give them inspiration."
"It's about visibility," shares his Fairyland director, Durham, "so young queer kids can see successful, confident people like Adam thriving and having a seat at the table."
"There's a fight that exists in me to try to prove the point that you can be a queer artist and have a space and affect other young people — queer or otherwise — and give them inspiration."

Adam Lambert
That applies both to Lambert's fans and also the music industry as a whole, which has come a long way since 2009 when people balked at the thought of a male singer wearing drag.
Look no further than the 2023 Grammys, which just bestowed its top Album of the Year honors to Harry Styles, who's been praised for his gender-fluid style and flamboyant performances. Or the fact that Best Pop Duo/Group Performance went to Sam Smith and Kim Petras' "Unholy," making history for nonbinary and trans musicians.
"I'm so proud of it. I'm proud of what we made — there's a bunch of us. Yes, there's a lot more work to be done, but look how many queer artists are in this space, in mainstream music, being taken seriously. It's no longer a niche. It is amazing."
Lambert also sings the praises of artists like Lil Nas X ("he's a rock star"), who's now kissing guys on stage and performing lap dances for the devil, "with full backing from his team, his label, his fans."
"But it's taken time for anybody to be able to do that. I tried it 10 years ago, and it nearly cost me my career," he says with a laugh.
Archuleta credits Lambert as a "pioneer" — someone who paved the way for him to come out on his own terms. "It took those conversations to be had to make more room for people like me to follow and have that room for the conversations now," he says.
"It's nice knowing that I was part of a wave of artists that were pushing things toward the future," Lambert reflects. "I look back fondly on that journey that we've all made and the fact that we've now changed the music industry. We've collectively shifted the landscape."
For an artist that made a name for himself with a song that asks, "Whataya want from me?" Adam Lambert's never been more sure of who he is and what he has to offer.
---
This article includes links that may result in a small affiliate share for purchased products, which helps support independent LGBTQ+ media.