In one of the biggest upsets in Golden Globe history, Glenn Close beat Lady Gaga for Best Actress in a Motion Picture — Drama at last night's ceremony and perhaps nobody was more surprised than the winner herself.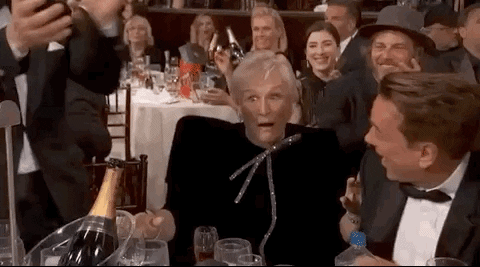 The award is Close's 15th Golden Globe nom and third win over the span of her 45-year career. She has never won an Academy Award, despite being nominated six times.
As to be expected, Gaga fans are livid.
i'm in the worst fuckimg mood of my life fuck u glen close @ladygaga babe u deserve the world

— Julia Schimansky (@JuliaSchimansky) January 7, 2019
I HAVENT EVEN SEEN A STAR IS BORN YET AND IM SURE GLEN CLOSE IS GREAT. BUT LADY GAGA GOT ROBBED.

— Bridget Ferrin (@BridgetFerrin) January 7, 2019
who even is glen close i'm sorry lady gaga totally deserved that

— hads (@bonkersgabbie) January 7, 2019
We're guessing Close isn't too worried about those mean Little Monsters, however. Last night's award was well-deserved and long overdue, not to mention it helps pave the path for her to be a likely frontrunner this Oscars season.
And now, the memes…
Related: People are really, really pissed Lady Gaga didn't win the Golden Globe for Best Actress