Wednesday was an arduous day on our whirlwind press tour with Rihanna: Leaving Los Angeles, a crowd of contest winners and media outlets from all over the world piled into buses heading to LAX. While reporters interviewed each other about their favorite Rihanna songs, camera crews strove to document every single thing that went down. (That baggage-claim footage is gonna be stellar)
With some snags here and there we finally made it to the airport to meet up with the #Rihanna777 charter plane—and perhaps the singer herself.
In truth, the plane was a party bus with wings: Cameramen tripped over each other for B-roll, while bloggers tried to tweet on bad connections and contest winners lived their 15 minutes of fame.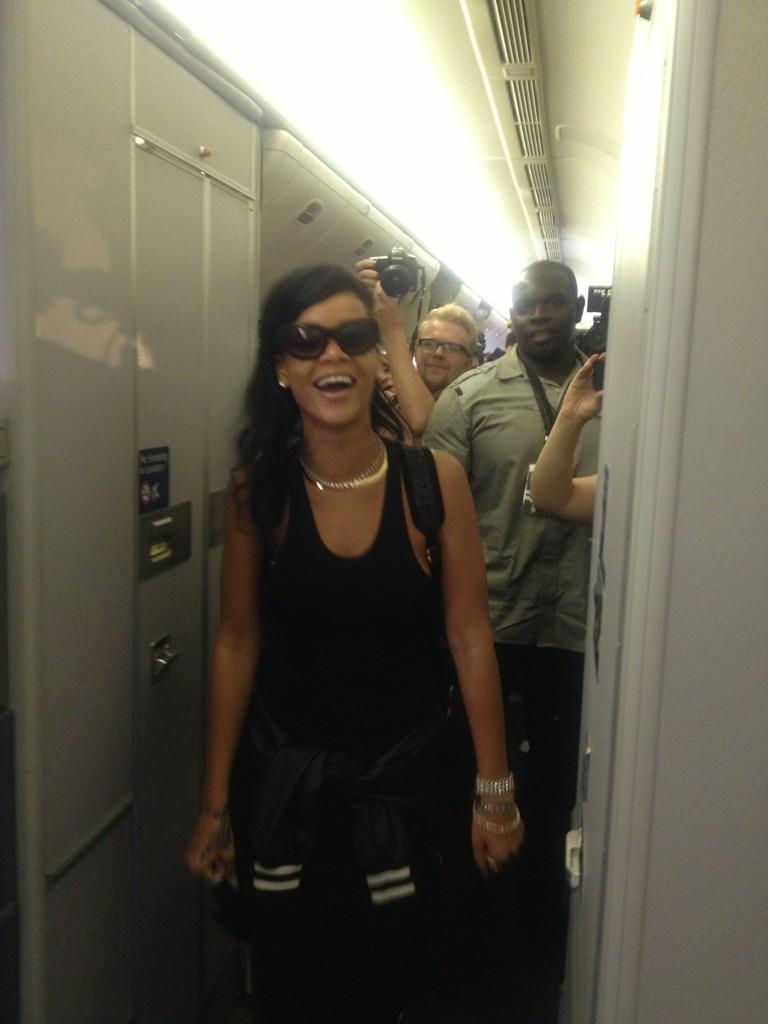 But there was still no word if Rihanna would be joining us or meeting up in Mexico. And then boom. RiRi surprised all by appearing out of nowhere with a welcoming scream to her fans and throngs of media.
And, trust, her greeting was reciprocated with thunderous claps and hollers. There was no going back—Rihanna came and conquered every person on that plane.
Fast forward to Wednesday night in Mexico City—that's where the true test of wills began. Traffic in the city at night was jam-packed as tiny autos maneuvered around massive vehicles and our party-bus convoy. We were promised an open bar before Rihanna went on at 9pm. But it was 8, and the driver said we still had an hour to go. Dios!
But when Ri finally went on at the midsize Plaza Condesa at about 11, fans who sat through CongoRock's DJ set were hardly disappointed. This is a mini-tour of sorts, but our girl didn't pull a three-song-and-leave bit. She busted out a greatest-hits set sprinkled with tracks off her new CD, Unapologetic. The Plaza had brilliant acoustics and, despite the global superstar in attendance, never got obscenely packed—allowing diehard fans to sing and dance along. (Click here for a clip from the show)
I have to say, the boys love them some Rihanna in Mexico City, which totally threw off the gaydar. Men singing along to "Umbrella," and hugging and kissing their hermanos was confusing as heck, but I certainly didn't mind watching.
We're now in Toronto as Rihanna preps for her second tour date tonight. Can you believe she even hung out in baggage claim with us this morning? Yeah, I think we found love.