Tom Daley needed to guzzle some water recently as he took photos of himself wearing only underwear. The steamy photos — in which the Olympic diver's red Diesel briefs are riding low on his hips — have been making the rounds on social media, giving a whole new definition to the phrase "thirst trap."
Así casual Tom Daley pic.twitter.com/QZrHiuukvH

— Gilberto Brenis ® (@GilbertoBrenis) August 12, 2019
The world's collective Twitter thirst over the pics comes as Daley concedes a record to 13-year-old Ukrainian diver Oleksii Sereda, who just became diving's youngest-ever European champion at an age three months younger than Daley was when he set the record in 2008.
Related: Dustin Lance Black was barred from a Tom Daley diving event. You'll never guess why.
Daley is still diving competitively, of course, but he's also focusing on his burgeoning family with husband and Oscar winner Dustin Lance Black, with whom he welcomed son Robert last year.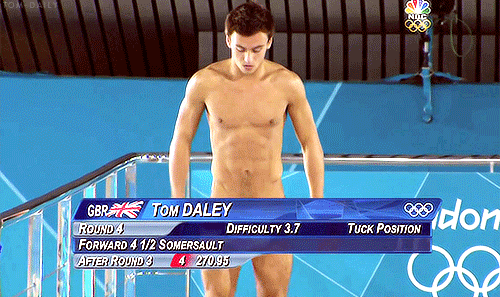 Good to see fatherhood hasn't stopped the bronze medalist from showing off skin online, though! Check out more below:
 

View this post on Instagram

 
 

View this post on Instagram

 
 

View this post on Instagram