Janet Jackson announced this week that she's planning another comeback and we couldn't be more excited. The singer will be releasing a new album and hitting the road for a world tour later this year.
The 53-year-old hitmaker took to Instagram to make the big announcement, telling fans: "Hey U Guys! I've heard all your wishes and now from my lips to your ears. I'm working on my new album and going on a brand new World Tour this summer! Both titled "Black Diamond." I love u guys so much and I'm #SoExcited to share this new era with you. See u soon!"
Black Diamond will be Jackson's 12th studio album and her 10th headlining tour.
She explains: "Black Diamonds are the toughest of all the diamonds, the hardest to cut. I see that as the hardest to hurt or destroy. There is a lot that I have endured. I see myself as a Black Diamond in its purest form. I'm a rock, I have ruff edges but I keep moving forward. I want to show you my strength as well as give you strength."
Sounds pretty badass to us. Of course, that's just one of the many things Miss Jackson does best. Scroll down for 8 times she was a total badass…
That time she starred in a movie with Tupac and was nominated for an Academy Award.
Jackson appeared in the film Poetic Justice in 1993. She played Justice, a young poet living in South Central, Los Angeles grieving the shooting death of her boyfriend. The film was #1 at the box office its opening weekend and grossed almost $30 million domestically. In addition to starring in the film, Jackson contributed the song "Again" to the its soundtrack. "Again" reached #1 on the Billboard Hot 100 and received nominations for the Academy Award and Golden Globe Award for Best Original Song. NBD, right?
That time she randomly dropped a Spanish language single just because and it became her 20th #1 hit.
Seemingly out of nowhere in 2018, then 52-year-old Jackson teamed up with Puerto Rican rapper Daddy Yankee to release what would become her 20th #1 single on the US Dance Club Songs chart and 41st entry on the Billboard Hot 100. Along with the single, she released a music video, which has garnered nearly 70 million views, followed by a Latin version in which she sings entirely in Spanish.
That time she married a billionaire, got pregnant (at 50), and swiftly divorced him.
Jackson began dating Qatari businessman Wissam Al Mana in 2010. Two years later, they were married. In 2016, she announced she was pregnant (at 50!) with their first child. Then in 2017, she gave birth and quickly announced she was separating from Al Mana. At the time, the couple said they still had a "strong friendship" and planned to co-parent their son together but they didn't elaborate on any details; however, it was later reported Janet walked away with a cool $500 million. If you're gonna get divorced, that's the way to do it.
That time she smashed a glass table with a golf club.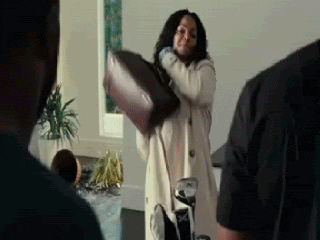 In 2010, Jackson appeared in Tyler Perry's Why Did I Get Married Too?, the sequel to 2007's Why Did I Get Married? In it, she plays a successful psychologist/bestselling author named Patricia Agnew who has a major meltdown after her husband takes all her money. Jackson later said she channeled her grief over losing her brother Michael into the performance, telling MTV: "It was always there in the back of my mind, and obviously you get into your scene and your character, but still, when it's something that is that tragic, it doesn't leave you."
That time she totally burned Madonna and didn't apologize for it.
While they're on good terms today, Janet and Madonna haven't always had to most cordial relationship. When asked by an interviewer in the mid '90s about her music being compared to Madonna's, Janet replied: "It's dance music, I'll say that, which is very similar. I think… How do I put this? I think what I do has class to it. I'll say that." Ooh, girl.
That time she re-released her single 1986 "Nasty" after Donald Trump called Hillary Clinton a "nasty woman."
After Donald Trump called Hillary Clinton "such a nasty woman" during the third presidential debate in 2016, Janet's song "Nasty" off her 1986 breakout album Control skyrocketed 250% on Spotify. Being a super savvy businesswoman, Jackson quickly re-released two long-forgotten remixes of the song, "Cool Summer Mix – Pt. 1" and "Cool Sumer Mix – Pt. 2," which originally appeared on 1987's Control: The Remixes. Then, in 2019, she re-released the entire remix album because, hey, why not?
That time she read Justin Timberlake for filth on Oprah.
Everyone remembers #nipplegate from the 2004 Super Bowl. Well, two years after that whole debacle, Jackson sat down with Oprah to talk about it. When asked whether she felt Timberlake "left you hanging out there" in the aftermath, Jackson replied, measuredly: "Justin, we were friends. And not that we aren't now. We haven't spoken. But I consider him a friend, and I'm very loyal, and friendship is very important to me." Then she added, "Certain things you just don't do to friends." It wasn't so much the comment but the tone in which she said it that would have just about anyone looking over shoulder in a dark parking lot.
That time she started her own record label and released one of the best albums of her career.
After years of declining record sales, mediocre album reviews, and feeling ignored by music execs, Jackson finally said "F this!" and started her own label. She used it release her eleventh studio album Unbreakable in 2015, which debuted at #1 on the Billboard 200, making her only the third act in the history of the chart to have a #1 album in each of the last four decades ('80s, '90s, '00s, and '10s). It was also named by several publications as one of the best albums of the year and went on to sell over 250,000 copies, a major feat in the era of streaming and for an artist many wrongly, very wrongly, believed was "past her prime."
Related: #JusticeforJanet: The Internet has decided that Janet Jackson won the 2018 Super Bowl